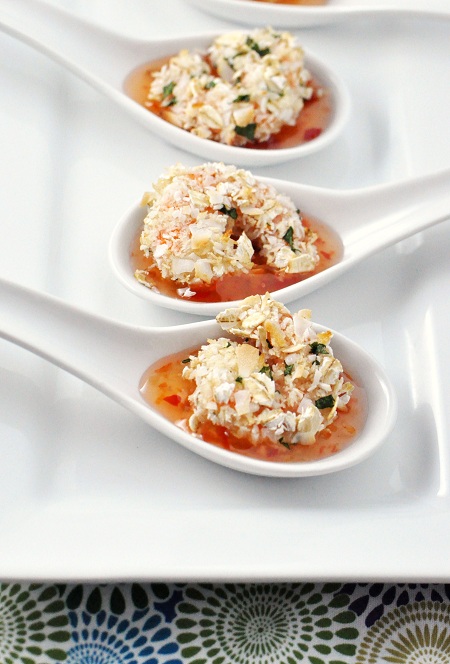 I have to admit that I am a bit embarrassed with all this fancy spoon shiz and all.
I mean I am not an all fancy gourmet person but heck, when you post a photo of an awesome spoon that is only 75 cent and all your online Facebook peeps keep tell you to buy some immediately, you kind of have to do it.
I decided to attempt making a lively and crunchy shrimp and posing them on the spoons. Nice eh? I know!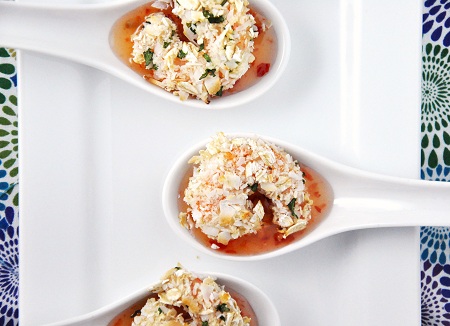 Coconut & Oats Baked Shrimp Recipe (Yield = 10 or more)
Ingredients
1 lb. of 31-40 uncooked shrimp, peeled and deveined
1/2 cup flour (I used whole wheat but almond or any GF would work fine)
2 egg whites, beaten with a splash of water
1/2 cup old fashioned oats
1/2 cup unsweetened flaked dried coconut (or flakes)
2 teaspoons fresh cilantro, finely chopped
A few pinches of fine salt
A few pinches of ground black pepper
Directions:
1. Preheat the oven to 450 degrees Fahrenheit and place a cooling rack onto a baking sheet.
2. Place the coconut and pats onto a cutting board and roughly chop into smaller pieces and place in a bowl. Season with a pinch of salt and pepper and set aside in a bowl.
3. Place the flour into a zip-top bag and lightly season with salt and pepper.
4. Whisk egg whites and water and a pinch of salt and pepper and beat together.
5. To bread the shrimp, create the following assembly line: flour, egg and coating. Place the shrimp in the flour and toss well. Working with a few shrimp at a time, shake off excess flour, coat with egg, dredge in coconut-oat mixture, and transfer to cooling rack that has been lightly sprayed with olive oil non-stick spray.
6. Bake the shrimp until golden and crisp, about 10 to 12 minutes and serve with a chili sauce or orange-apricot sauce.