Yesterday, I held back a bit of information: What I didn't tell you about was that I dropped by Kim #2's house New Year morning following the International Food Fest.
As I arrived in her kitchen, she was putting a quiche in the oven (in addition to making pancakes, bacon and more).
I was all like 'Dude, I have not made a quiche in a long time'.
I remedied that by promptly making one and serving it for dinner.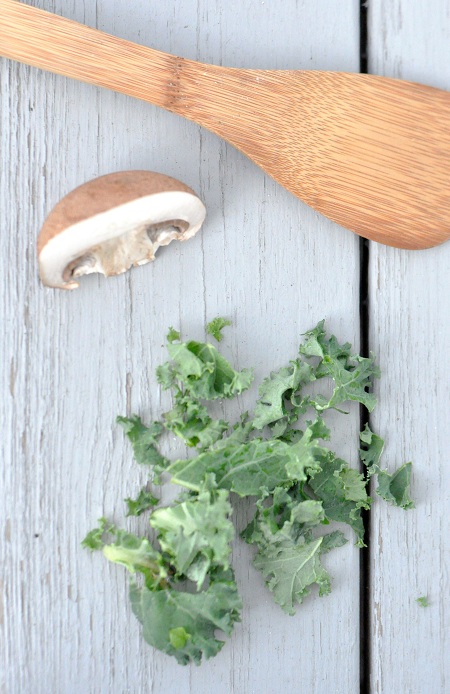 By the way, wondering why I used the bacon (besides the fact that it is bacon?)? I say, if you want to get your kids to try anything, add bacon to it.
FYI: the recipe below does not call for as much Kale I used in the photo.
Kale, Mushroom & Bacon Quiche Recipe (Yield = 6-8)
Adapted from The Fresh Market
Ingredients:
3 teaspoons of olive or grapeseed oil
2 cups of Kale, stems removed, torn into small pieces
3 strips of bacon, optional
2 cups of chopped portabella mushrooms
1/2 teaspoon fine sea salt
1/2 teaspoon ground black pepper
1/2 teaspoon dried thyme leaves
1/2 teaspoon dried sage
5 large organic eggs
1 cup reduced fat sour cream
1/4 cup water
1 cup shredded reduced fat cheddar cheese, divided
1 prepared pie crust
Directions
1. Preheat the oven to 400 degrees F.
2. Heat 2 teaspoon of oil in a large nonstick pan over medium-low heat. Add the Kale and cook, stirring occasionally, until reduced in volume by half (3-4 minutes). Meanwhile, place the bacon on a plate lined with paper towel and microwave on high for 2-3 minutes and then set aside to cool. Transfer the Kale to a large bowl and heat the remaining teaspoon of oil.
3. Add the mushrooms and cook until they have released their water (about 4 minutes). Toss the Kale back in, and season with salt, pepper, thyme and rosemary. Chop the bacon, add to the kale and mushrooms and set aside.
4. In a bowl, whip the eggs well and then mix in the sour cream and water and set aside.
5. Place the pie crust in a pie pan, poke some holes in the crust using a fork, then then sprinkle half of the cheese onto the bottom of the pie crust and bake for 10-12 minutes. Remove from the oven, pour the kale-mushroom-bacon mixture over the cheese and then gently pour in the egg mixture. Top with remaining cheese.
6. Place into the oven, lower the temperature to 350 degrees and bake for 35 minutes or until a knife inserted comes out clean.