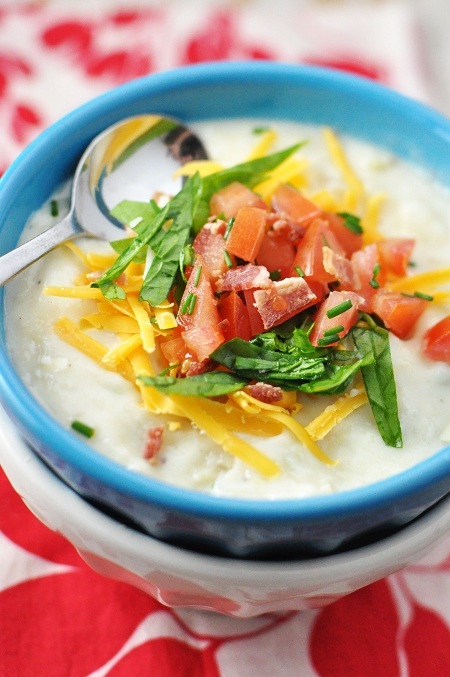 Tuesday afternoon, I was happily booting up the DVD player so that my son could watch the long awaited copy of Star Wars IV.
I sat down next to him and noticed him staring lovingly at me. I turned to him and the following conversation ensued:
He said: "Mom, you look much older than when you were 38"
I said: "Thanks Ben (in a sarcastic tone). You look much older than when you were 1"
Ben said: "Thanks Mom! (full of pride)"
You now understand why I needed to be surrounded by the warmth of this soup right?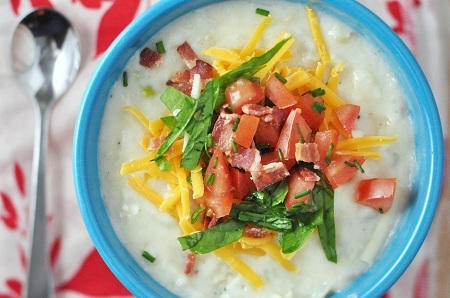 Cheesy & Low Fat BLT Baked Potato Soup Recipe (Yield = 6 servings)
Ingredients:
4 russet potatoes, about 2 pounds
1 Tablespoon olive or grapeseed oil
1/2 cup diced sweet onion
1 celery stalk, chopped
2 cloves of garlic, minced
1/4 cup unbleached all-purpose flour
3 cups of 1 or 2% milk
1 cup of vegetable stock or broth
1 cup of reduced-fat shredded cheddar cheese
1/2 cup of reduced-fat sour cream
1 large tomato, chopped
4 cooked slices of bacon, crumbled
1 cup of shredded/chopped lettuce
2 scallions
Directions:
1. Clean the potatoes and pierce, with a fork, 3-4 times around each potato. Place them on a microwave-safe plate, loosely wrap them with a moist paper towel on top and then microwave on high for 5 minutes. Check to see if they are soft and if not, microwave in 2 minutes increments until soft. Set aside to cool a bit.
2. Meanwhile, heat the oil in a dutch oven over medium heat and then add the onion and celery, sauteing for 3-4 minutes. Add the garlic and saute an additional minutes.
3. Remove the skin from the potatoes, scoop the flesh into a large bowl and mash the potato with a masher or fork. Scatter the flour over the onion-garlic mixture in the pot and whisk together. Add in the milk and stock and mix well, allowing to cook for about 5 minutes until it has thickened.
4.  Lower the heat to low and add in the mashed potatoes, cheese and sour cream and allow to cook for 8-10 minutes.
5. Taste and then season with salt and pepper. Using an immersion blender, pulse the soup to your preferred consistency. Ladle into bowls and top with bacon, lettuce, tomato and scallions.