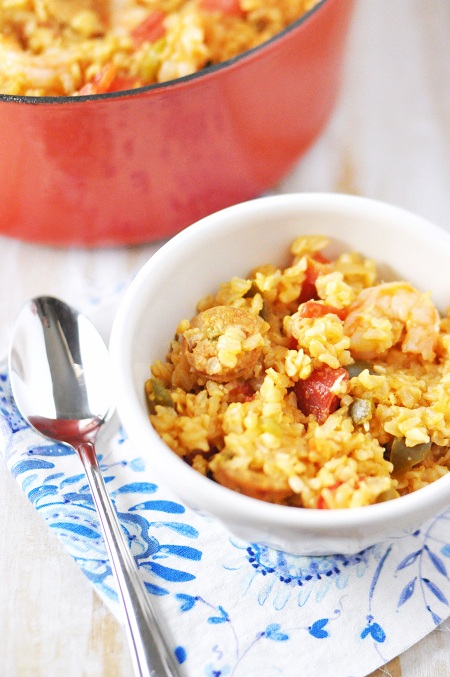 Today are the AFC & NFC championship playoff games so I decided to make a hearty but fun dish for my husband. And guess what happened?
Because I made a big deal about this being 'for daddy', the kids were all over helping and then eating a bowl of it.
Just goes to show you, show some excitement and the kids might just excited to try a recipe too!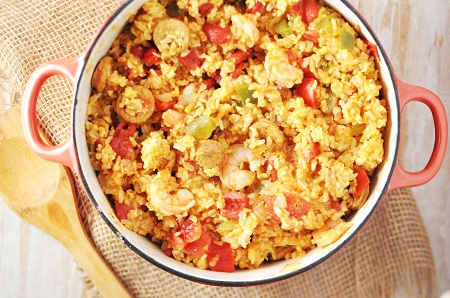 Superbowl Championship Football Game Food: Shrimp & Chicken Sausage Jambalaya (Yield = 8-10)
Ingredients
1 tablespoon olive oil
1/2 large sweet onion, chopped
2 celery stalks, chopped
1 red pepper, chopped
1 green pepper, chopped
2 garlic cloves, minced
1 lb. chicken sausage, sliced ~ 1/3 inch thick
2.5 cups brown jasmine rice
1/2 teaspoon Mccormick Cajun seasoning
1/2 teaspoon dried thyme leaves
5 cups of reduced sodium chicken broth or vegetable broth
2 cups of canned diced tomatoes with juices
1 lb, of raw 31-40 shrimp, peeled and deveined
Directions:
1. Place a large pot over medium-high heat and add the oil. Once the oil is heated, add the onion and saute for 3-4 minutes, stirring often, Add the celery, peppers and garlic and saute 2 additional minutes.
2. Increase the heat to high and add the sausage, rice, seasonings, broth and tomatoes. Once they come to a boil, cover, reduce heat to simmer and cook as long as instructed on the rice package.
3. Add the shrimp, stir well, turn off the heat and allow to cook for 5-6 minutes. Serve.