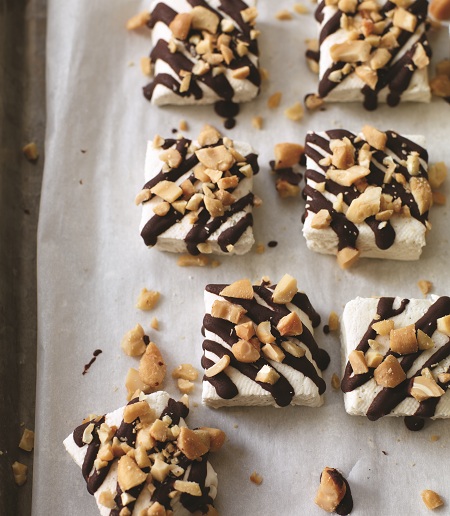 When I see the words 'Nougat', I am instantly happy.
I am also happy when I find a bottle of Nielsen-Massey Madagascar Bourbon Pure Vanilla Extract sitting on my counter with a balloon attached with a card leaning against it.
That is exactly what I found this morning at 5:00 a.m. so as a gift for you I present this Vanilla Nougat Candy Bar Bites recipe.
To be honest, this is not the simplest or fastest recipe in the world but it is oh so worth it!
Happy Valentine's Day!
From Pure Vanilla by Shauna Sever (Makes about 2 dozen 1 inch bites)
Ingredients:
1 2/3 cups granulated sugar
1/3 cup light corn syrup
½ teaspoon salt
2 large egg whites, at room temperature
2 teaspoons Nielsen-Massey vanilla bean paste
1 teaspoon Nielsen-Massey pure vanilla extract
2 ounces bittersweet chocolate (60 to 70 percent cacao), melted
¼ cup finely chopped salted nuts*
* Use whatever kind of nuts you like. Salted peanuts and almonds are especially good for a candy bar effect.
Directions:
Lightly coat a 9-by-5-inch loaf pan with cooking spray. Line it with parchment paper and lightly spray the parchment, too.
In a medium heavy-bottomed saucepan over medium high heat, stir together sugar, 1/2 cup water, corn syrup, and salt. Boil until the temperature reaches 238°F.
Meanwhile, in the bowl of a stand mixer fitted with the whisk attachment, whip egg whites on medium speed until they hold soft peaks, about 2 minutes. With the mixer on medium speed, slowly pour half of the hot syrup into egg whites, beginning with just 1 to 2 tablespoons and then gradually pouring in the rest (adding just a little syrup at first warms up the egg whites and prevents them from scrambling). Immediately return saucepan with the remaining hot syrup to medium-high heat and bring to a boil; continue beating egg-white mixture until thick, with the consistency of marshmallow crème, then turn off mixer.
When the syrup temperature reaches 275°F, turn mixer on at medium speed and slowly pour in syrup. Increase mixer speed to high and beat for 10 to 12 minutes, until mixture is very thick, heavy, and beginning to lose its gloss; the bowl should be cool except for the very bottom. Scrape mixture into prepared pan and spread it into the corners with lightly oiled hands or an offset spatula. Let set at room temperature until completely cool and firm, about 2 hours.
Invert nougat onto a cutting surface and remove the parchment. The slab should be sticky side up (the side that was exposed to the air while setting should be dry and not sticky when touched). Cut into 1-inch squares and place squares sticky side up on a parchment-paper-lined baking sheet. Pour melted chocolate into a small zip-top bag. Use scissors to snip off the corner of the bag. Drizzle a bit of chocolate over each nougat square and sprinkle chopped nuts on top. Refrigerate until chocolate is set, about 5 minutes, before serving.
If the egg whites hold soft peaks before the syrup temperature reaches 238°F, stop the mixer—you want the whipped whites to be ready and waiting for the syrup, not the other way around.
This soft nougat is the perfect base for all kinds of creative confectioneries. Flavor it as you like (peppermint holiday nougat, anyone?), fold in dried fruits and nuts for a riff on Italian torrone, or use it as inspiration for your own homemade candy bars.
This recipe is courtesy of Nielsen-Massey and Shauna Sever, The Next Door Baker