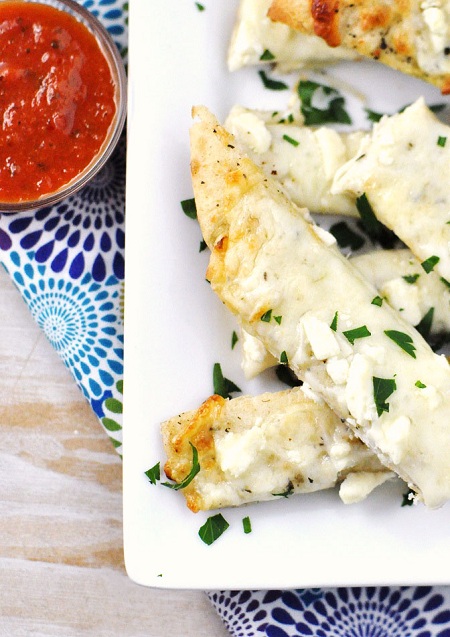 Sunday was a busy day. We had the push-pop play-date, cleaned and purged items from the playroom all while my husband was working on the basement refinishing project.
Sunday was also Super Bowl Sunday so that meant a snack-fest right? Well, with my neck and shoulders getting sore, I decided to make a few super easy semi-home snacks using a Trader Joe's Ciabatta shell that required minimal time or effort.
One such snack, were these bread sticks. These bread sticks remind me of those devious ones at Pizza Hut so I knew we would all gobble these down with barely a scant crumb to prove their existence.
Before I forget to tell you, don't fret if you do not have these three cheeses as you can easily use just one or combine what you have fun.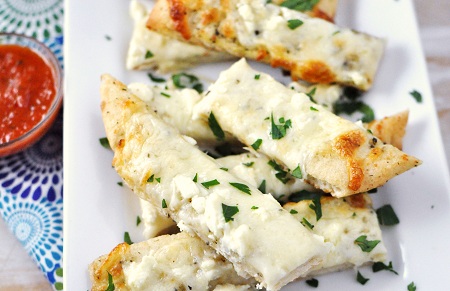 Quick & Easy Semi-Homemade Triple Cheese Garlic Bread Sticks (Yield = 16 or more)
Ingredients:
1 prepared pizza shell
2 teaspoons of olive oil
1 cup shredded mozzarella
1/2 cup crumbed feta
1/4 cup grated parmesan
minced fresh garlic or powdered garlic
Directions:
1. Preheat the oven according to the directions on the pizza shell/bread product
2. Spread the olive oil all over the shell, dust with some garlic powder or minced garlic and top with the cheeses.
3. Bake as directed on the pizza shell/bread package or until the cheese is melting and just starting to get a few tinges of brown. Allow to cool a few minutes and then cut into sticks/strips.