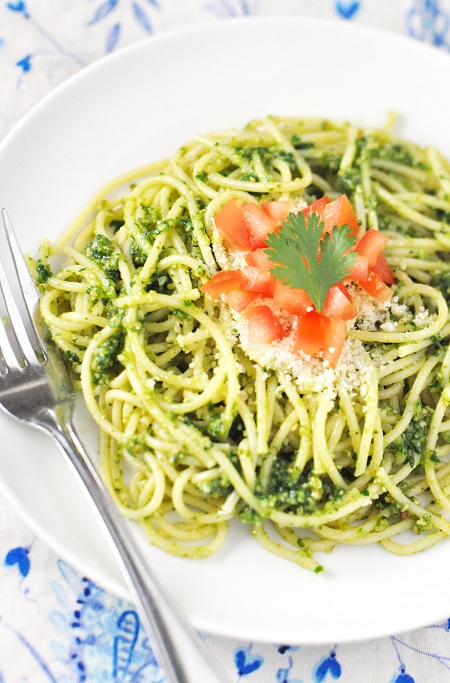 I am writing this late Thursday night thanks to impending Storm Nemo. In fact, we watched the movie Finding Nemo after we ate this Spaghetti with Cilantro-Parsley Pesto & Tomato recipe for dinner.
I wanted a quick meal that would satisfy, be flavorful and fun. Since my husband despises pine nuts, I used pumpkin seeds but go crazy and use walnuts or pistachios, toss in any herbs and play around.
Watch out with the garlic or you might melt someone's face if you get too close. Phew.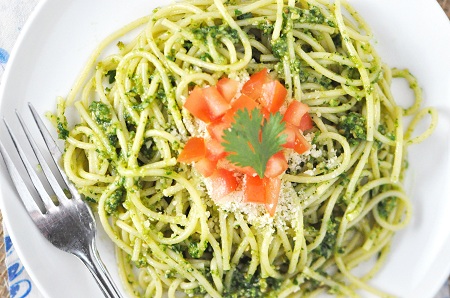 Superfast Spaghetti with Cilantro-Parsley Pesto & Tomato Recipe (Yield = 4)
Ingredients:
1 lb. box of whole grain or whole wheat spaghetti
1/4 cup shelled, salted Pumpkin Seeds (roasted or raw)
2 Tablespoons grated Parmesan cheese
1 clove garlic, roughly chopped
1/4 cup fresh cilantro, loosely packed
1/2 cup fresh parsley, loosely packed
1/2 cup extra-virgin olive oil
1 tomato, chopped
Salt & ground black pepper, to taste
Directions:
1. Bring a large pot of water to a boil and cook spaghetti according to package directions. Meanwhile, Place the pumpkin seeds, Parmesan, garlic and herbs in a full-sized or mini food processor and pulse until seeds are finely ground.
2. Drizzle the olive oil into the processor and pulse every few seconds while until well incorporated. Season with salt and pepper.
3. Drain the spaghetti, place in a large bowl, mix in pesto and then top with tomatoes. If you wish, you can always add more oil in but be sure to toss well.