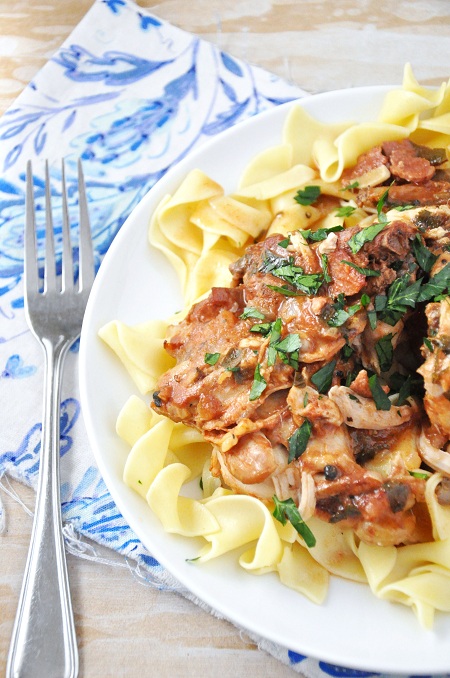 You may recall that I used to post a series called 'EatingWell Wednesday' featuring recipes from EatingWell Magazine.
I am at it again today with my adaptation of their Wine Braised Chicken. I was inspired to make my version as my husband asked for a more rustic yet simple dish. I must have been successful as he said this reminded him of a dish his Portuguese Mom used to make.
I hope you are enjoying Slow Cooker week. I also hope you enjoy hugs, warm showers, working toilets and clean clothes from the dryer. Be sure to jot down those items and place them in your Family Gratitude Jar.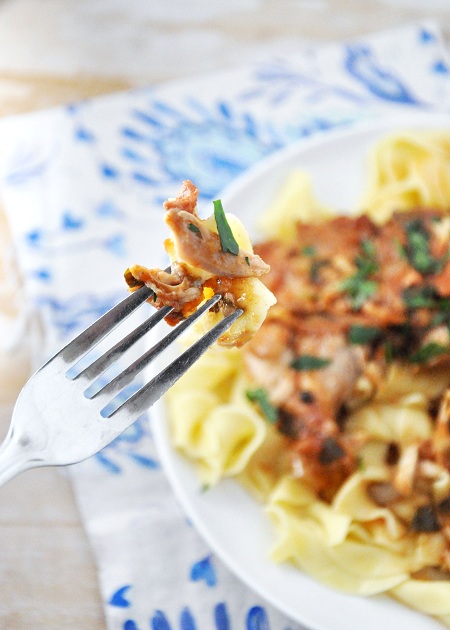 Tomato Braised Slow Cooker Chicken Recipe (Yield = 4-6)
adapted from EatingWell.com
Ingredients:
3 slices of turkey bacon
1/2 large sweet onion, chopped
3 cloves garlic, minced
1 teaspoon dried thyme
1/2 teaspoon dried basil
1 bay leaf
1 cup low-sodium chicken broth or stock
1 1/2 cups of tomato sauce
1 teaspoon fine sea salt
1/2 teaspoon freshly ground pepper
bone-in chicken parts including legs, thighs and breasts, (about 2-3 pounds), skin removed
1/4 cup plus 1 tablespoon finely chopped fresh parsley
Directions
1. Cook bacon in a large skillet over medium heat until crisp (or on high in ninja cooker). Transfer to paper towels to drain and toss in the freezer for a few minutes. crumble when cool.
2. Place all of the ingredients into the slow cooker wit the exception of the 1 tablespoon of fresh parsley. Remove the bacon from the freezer, crumble it on top and set the slow cooker to high for 3 hours or low for 6 hours.
3. Serve over any whole grain you have, brown rice or old fashioned egg noodles.