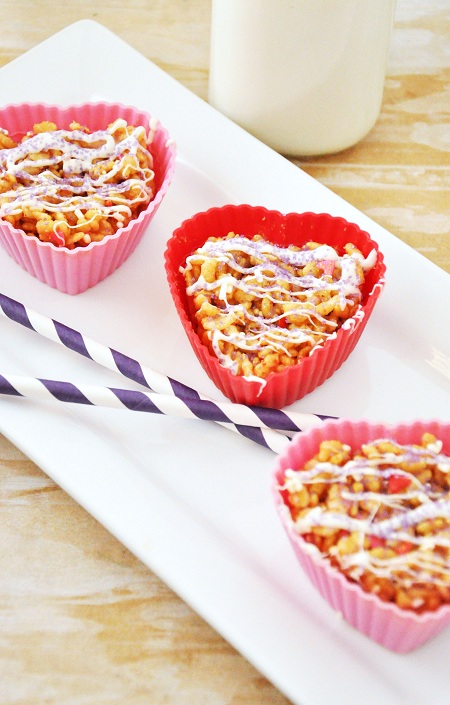 Kissing is big around here. Kissing causes a big giggle fest.
Especially when the kissers are Princess Leia and Luke Skywalker Lego characters.
My son has a slight Lego Star Wars infatuation right now and in one particular book, the kids make the two pages touch so that Leia and Luke 'kiss'.
Speaking of kissing, it is almost Valentine's Day so I made a quick little sweet treat to give to my babes using two of the their favorites: peanut butter and white chocolate.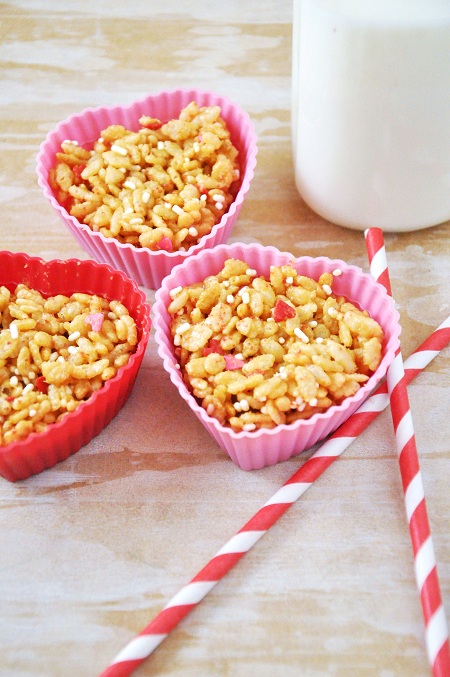 Crispy Rice Peanut Butter Treats with White Chocolate Drizzle Recipe (makes 8)
Ingredients:
1/4 cup natural peanut butter*
1/3 cup honey
2 cups crispy brown rice cereal
A few Tablespoon pastel sprinkles
8 Wilton silicone heart molds
1/2 cup white chocolate chips
Directions:
1. Combine peanut butter and honey in a medium size bowl, mix and microwave for 30 seconds at 50% power. If the peanut butter is not melted, repeat for another 20 seconds. Mix well.
2. Pour the brown rice cereal into a bowl and fold in the the peanut butter honey mixture and then shake on the sprinkles.
3. Fill each heart mold and press firmly. Refrigerate for a minimum of one hour.
4. In a microwave safe bowl, melt the white chocolate chips by microwaving them for 30 seconds at 50% power. Mix and repeat 1-2 times until the chips are melted.
5. Either keep the crispy treats in the mold or remove the crispy treat from the mold carefully and drizzle the melted chocolate on top of each.
*Use any seed or nut butter you wish.