In case someone has not told you, tomorrow is Easter Sunday.
In case someone has not told you, people like to eat Carrot Cake on Easter.
We like to eat carrot cake whenever we can.
The kids prefer no raisins or nuts in the carrot cake so I have not included any in this recipe.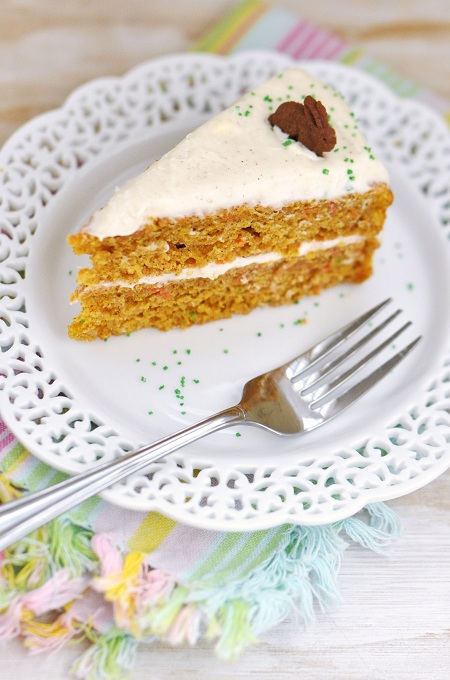 Fluffy Carrot Juice Carrot Cake with Light Cinnamon-Cream Cheese Frosting (Yield = 10-12 slices)
Adapted from Better Homes & Garden
Ingredients:
2 cups unbleached all-purpose flour
1 Tablespoon baking powder
1 Tablespoon cinnamon
1/4 teaspoon nutmeg
1/2 teaspoon fine sea salt
2 eggs
1 cup granulated sugar*
1/4 oil
1/2 cup unsweetened applesauce
1 1/4 cup carrot juice (I used Trader Joe's carrot juice)
3 cups grated carrot
1 recipe of cream cheese frosting with added cinnamon
Directions:
1. Preheat the oven to 350 degrees Fahrenheit.
2. In a large bowl, combine the flour, baking power, cinnamon, nutmeg and salt.
3. I a large mixing bowl, place the eggs and beat on low for 1 minute. Add the sugar and beat on low for two minutes. Add the oil, applesauce and carrot juice and mix for one minute. With the mixer on low, add in the flour, 1/3 cup at a time until all combined and fold in e shredded carrot.
4. Prepare two 8-inch round cake pans with baking spray and evenly D's tribute the batter in the two pans.
5. Baked for 25 minutes and test with a knife to see if batter is cooked. Bake an additional 5 minutes if necessary.
6. While the cake is cooling, make the cream cheese frosting but include 2 teaspoons of cinnamon..
*This is not a very sweet cake so if you are not going to use an icing, I would increase the sugar to 1 1/2 cups.