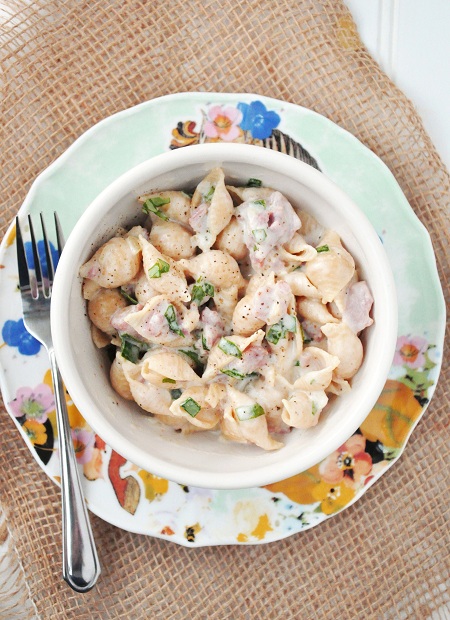 Now you come on back here.
Don't run away from the baby kale.
Baby Kale is in there to represent any leftover Easter vegetables.
It may be asparagus or broccoli but no matter, I simply want you to consider tossing it in your Mac & Cheese.
Now I know you have some Easter Ham left and if not, use this recipe anytime you have ham or ham steak around.
Leftover Easter Ham Mac & Cheese Recipe with Baby Kale (Yield = )
adapted from Clean Eating
Ingredients:
3 1/2 cups cooked whole grain pasta (about 1/2 of a 1 lb. box)
1 Tablespoon olive oil
1 clove of garlic, minced
1/3 cup sweet onion, chopped
1 cup diced roasted ham
1 tablespoon flour
1/4 tsp each sea salt and fresh ground black pepper
1 teaspoon Dijon mustard
1 1/2 cups 1% milk, divided
1/2 cup grated low-fat cheddar cheese
1/2 cup grated Gruyere cheese
1/2 cup chopped baby kale optional
Directions:
1. Bring a large pot of water to a boil on high. Add the pasta and cook  according to package directions. When done, drain and set aside.
2. Meanwhile, in a large pot, heat the oil on medium heat and then add onion and sauté, stirring occasionally, until soft and translucent, 2 minutes. Add garlic and saute for one additional minute. Add the ham and sauté, stirring occasionally, for 2 minutes.
3. Sprinkle the flour over ham mixture and cook for 1 minute, stirring constantly. Add the mustard and 1 cup milk, stirring constantly. Gradually add remaining milk, stirring after each addition and cooked until slightly thickened. Remove from heat and add the cheese, stirring until completely melted. Add macaroni and baby kale and stir until well combined.