In case you have been hiding under a rock, you know full well that this blog and my food of choice is cheese.
I have shared my childhood meal staple 'Spaghetti & Cheese' before and you have probably noticed that there is a minimum of two recipes per week that involve some sort of cheese.
For me, cheese is the ultimate comfort food. I have so many childhood memories of cheese and maybe so many meals as a child revolved around cheese because we were poor. Cheese, normally, cheddar or parmesan was very affordable, a source of protein and an easy way to add flavor and texture to anything really.
When I look back at what I turn to in times of stress or when I want to share a tasty recipe, it involves cheese: From trigger point injections to Storm Nemo, it is always there for warmth. Today's cheese of choice (in case you haven't guessed) is Parmesan Reggiano but I have evolved and we regularly enjoy feta, gruyere, gorgonzola, fontina, manchego and more. Can you tell we like to spend our time and incorporate many cheeses into our family time?
Just about everything has some parmesan reggiano cheese on top: From spaghetti and cheese to chicken parmesan to beef with biscuits and parmesan, it was a main staple. Maybe that is why I keep sharing so many cheeses with my children and letting them explore their palettes. My kids even get excited each time I bring home a fresh chunk of parm-reggiano. They ask me grate it fresh over just about any and everything.
Speaking of parmesan, Whole Foods contacted me to tell me about a fabulous event they are having and asked me to share that on Saturday, March 9 at 2 p.m. CST they're inviting shoppers from across the country to swing by your local store to join them for their annual Parmigiano Reggiano as they try to re-claim the Guinness World RecordTM for "Most Wheels of Parmigiano Cheese Wheels Cracked Simultaneously."
Now onto this delicious piece of cornbread with plenty of parmesan to comfort you…..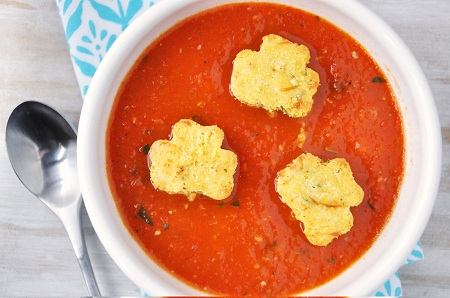 Cornbread with Herbs and Parmesan (Yield = 8 servings)
Ingredients:
1 cup yellow cornmeal
1 cup all-purpose flour
2 tablespoons packed light-brown sugar
1 1/2 teaspoons baking powder
1 teaspoon coarse salt
2 teaspoons fresh parsley, minced
1 teaspoon dried basil
1 1/2 cups 1% milk
2 large eggs, lightly beaten
2 tablespoons unsalted butter, melted
1 cup shredded Parmesan
Reggiano
cheese
Directions:
1. Preheat oven to 400 degrees.
2. Combine together the cornmeal, flour, sugar, baking powder, salt and herbs in a large bowl and whisk until combined.
3. In a separate large bowl, whisk together the milk, eggs and butter until combined. Fold in the parmesan cheese and then fold the wet mixture into the dry mixture and set aside.
4. Prepare a 8 x 10 baking dish but spraying with a non-stick cooking spray, if the dish is not already non-stick. Pour the batter into the dish and bake for 35-40 minutes. Test to see if the batter is fully cooked and bake 5 more minutes if necessary.