I made this fine yet simple recipe for my husband's lunch yesterday.
He worked his butt off Monday night making shelves in the closet at the bottom of the basement stairs so I would have a huge amount of space to store paper goods, large kitchen gadgets, entertaining items, and the overflow of bake-ware that normally sit in the our ovens.
This meal can be easily made to accommodate vegetarians or even those with a gluten-free, dairy free, vegetarian or vegan diets by simply omitting the shrimp and using soba noodles.
Convenient right? Just call me 7-Eleven.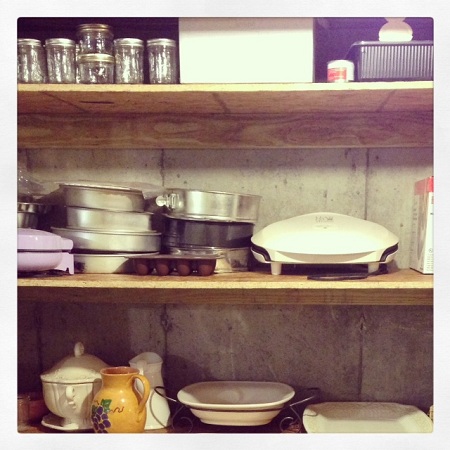 Shrimp, Asparagus & Red Peppers in a Lemon Caper Sauce Recipe
Ingredients:
1/2 lb. whole grain linguine, uncooked
2 tablespoons olive or grapeseed oil
2-3 cloves of garlic, roughly chopped
15-20 pieces of fresh asparagus
1/2 fresh red bell pepper, sliced and chopped
10-12 thawed, peeled shrimp (I used 21-30 size)
3-4 tablespoons of lemon juice
2 teaspoons of capers
A handful of fresh chopped parsley
Sea salt & pepper, to taste
A few tablespoons of parmesan cheese, optional
Directions:
1. Bring a large pot of water to a boil. Add the linguine and cook to package instructions.
2. Meanwhile, prepare the garlic, asparagus and red pepper. In a large skillet, heat the oil over medium heat. Place the garlic, asparagus and red pepper into the skillet and saute for 3-4 minutes, stirring frequently.
3. Drain linguine and set aside. Toss shrimp, lemon juice, capers and parsley into the skillet. Cook for 1-2 minutes, flip shrimp and cook for another 1-2 minutes. Top with linguine, mix well, taste, season with salt & pepper, toss a few times and plate. Sprinkle with parmesan if you wish.
Adore shrimp and craving more recipes? Here you go!