I made these pancakes this weekend but forgot to add the food coloring to make them green so while the kids are at school today, I whipped up a batch.
I am going to freeze them and surprise them St. Patrick's morning.
Those lucky Leprechaun's!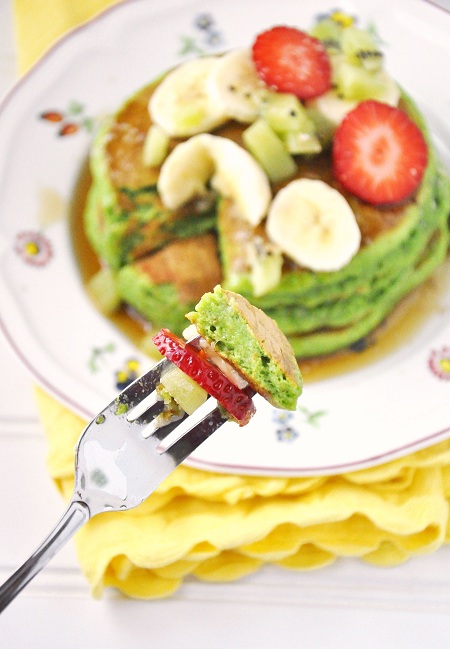 Fluffy Wheat Germ Pancakes Recipe (Yield = 7 pancakes)
Ingredients:
1 egg
1 teaspoon vanilla extract
3/4 cup unsweetened almond (or low-fat) milk
All natural food coloring in green (or combine yellow and blue)
1/2 cup unsweetened applesauce
1 cup white whole wheat flour
1 packet of Stevia sweetener
3/4 teaspoon cinnamon
2 Tablespoons of wheat germ
1 Tablespoon baking powder
1/4 teaspoon salt
Directions:
1. In a large bowl, beat the egg and then mix in the vanilla, milk and food coloring. Once you have achieved the desired color, mix in the applesauce.
2. In a separate large bowl, combine the remaining ingredients.
3. Fold the 'wet' mixture into the flour mixture, stirring just until moist.
4. Heat a griddle or skillet over medium heat to about 350 degrees. Using a 1/3 measuring cup per pancake, pour the batter and watch for bubbles start popping up, and then you may flip the pancake to complete cooking. Top with some fruit and a bit of real maple syrup.