I certainly hope you enjoyed the one day break but now it is time to get back to work.
I think you will find this week's challenge a bit easier as I will now take one of the exercises from last week and challenge you to maintain the proper form and pump out as many as you in a specific period of time.
We will build upon this time each day.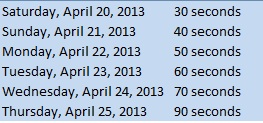 Here is a reference for how to perform the Tricep Push-Back .
If you need some fitness inspiration, come follow on these Pinterest boards: Health & Fitness Inspiration & Backside Challenge