Happy Friday! I sure hope you are enjoying these simple ways to firm up those triceps in the comfort of your own home (or whereever you choose to do them).
Feel free to do this exercise while using light weights, a can of beans or no weight at all.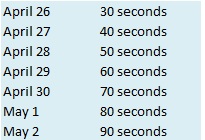 Here is a reference for how to perform the Side Tricep Lift.
If you need some fitness inspiration, come follow on these Pinterest boards: Health & Fitness Inspiration & Backside Challenge