People love baby versions of just about anything.
Even vegetables are more appealing.
Take this baby zucchini for example. My kids swear they hate zucchini and unless it is in a muffin, they don't even eat it.
But dang it all if they weren't willing to try it again when in a 'baby' version.
Yes, you could chop it up and all and it is more charming this way don't you think?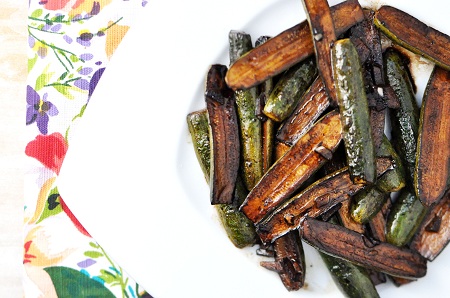 Sauteed Balsamic & Garlic Baby Zucchini Recipe (Yield = 4 side dish servings)
Ingredients:
12 oz. baby zucchini, tips removed and spliced in half lengthwise
3 tablespoons balsamic vinegar
1 tablespoons plus 1 teaspoon grapeseed or olive oil, divided
2 large cloves of garlic, chopped
A few pinches of salt and ground black pepper
Directions:
1. Whisk together the balsamic vinegar and 1 tablespoon oil. Toss in the garlic, salt and pepper and whisk again.
2. Place the zucchini flat in a dish or storage bag, pour the vinaigrette on top and marinate for 30 minutes or more.
3. Heat the remaining teaspoon of oil in a large skillet over medium heat.
4. Saute the zucchini for 3-4 minutes, tossing frequently and serve.