I will state for the ump-teenth time that sometimes getting your family to try a dish involves fun.
Fun, silly, crazy. Whatever works for you.
Now, in my family, you don't need to trick anyone into eating steak and potatoes but I wanted to try something different (and gluten free and low sugar to boot!) Therefore, I present a 'bite' of meat & potatoes.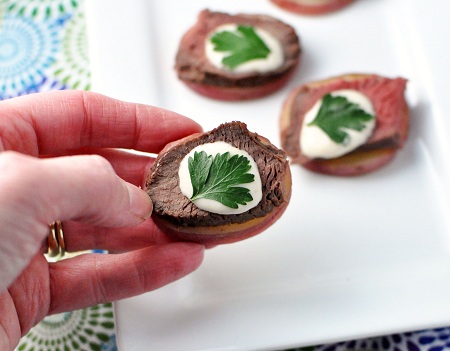 Steak & Potatoes Bites (Makes ~ 12)
Ingredients:
6 baby red potatoes
12 slices of cooked beef (your favorite cut is fine)
6 teaspoon of horseradish cream sauce (I used Gold's)
Herbs for topping, optional
Directions:
1. Wash and dry the potatoes. Poke each a few times with a fork and place them on a microwave safe plate. Dampen a paper towel and place it on top of the potatoes and microwave on high for about 5 minutes. Check them to be fork tender and microwave more if necessary. Remove the potatoes and place onto the serving platter to cool a bit.
2. Meanwhile, slice the meat into bite size pieces and set aside. Now make 3 slices out of each potato, using the center most of the potato and placing the ends aside for use in another dish. Repeat for each potato, yielding about 12 1/3 inch slices.
3. Top each with a piece of beef, the horseradish sauce and herbs.