Have you ever heard of Moscato grapes or wine? To be honest, I had not but do enjoy sipping wine with my husband. Therefore, I was more than willing to review three varieties of Gallo Family Vineyards' Moscato wine.
A few weekends ago, we took the white and red Moscato over a friends' house for dinner and they loved the wine. Here were the comments made about them: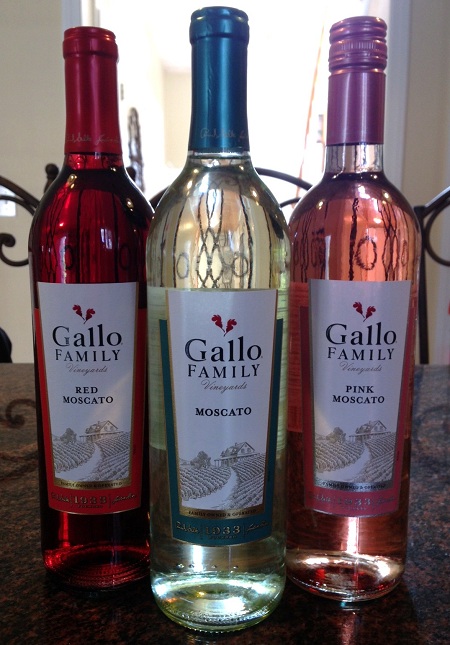 White Moscato: 'very smooth, very fruity, peachy, sweet, desserty, do not detect the alcohol even though 9%"
Red Moscato: 'not as sweet or as fruity as the white, can detect the alcohol a bit more, port aftertaste, fuller bodied'. <- our favorite!
Pink Moscato: My husband and I shared this one at home and describe it as 'closer to the white in regards to sweetness, we don't really detect the taste of alcohol but can detect berries.'
We enjoyed the Moscato because we do not like very strong tasting wine nor ones that are too bitter but these are definitely on the sweeter side and make a great dessert wine. They are also affordable wines and fun to share.

Please join in the Gallo Family Vineyards Twitter party (#MoscatoDay #gno) as we celebrate National Moscato Day on Thursday, May 9 from 9-10 p.m. ET or connect with them on Facebook.
Here is a recipe for you to enjoy!
"Moscato Gimlet"
serves 1
Ingredients:
3 oz. Gallo Family Vineyards Moscato
1 oz. Fresh Lime Juice
1/2 oz. Agave Nectar
Preparation: Combine ingredients into a cocktail shaker. Shake and strain into a coupe glass. Garnish with a lime.
Disclaimer: I am part of the Mom It Forward blogger network. Mom It Forward and Gallo Family Vineyards partnered in support of this campaign. Gallo Family Vineyards compensated me for participation in this campaign. However, all thoughts and opinions are my own.