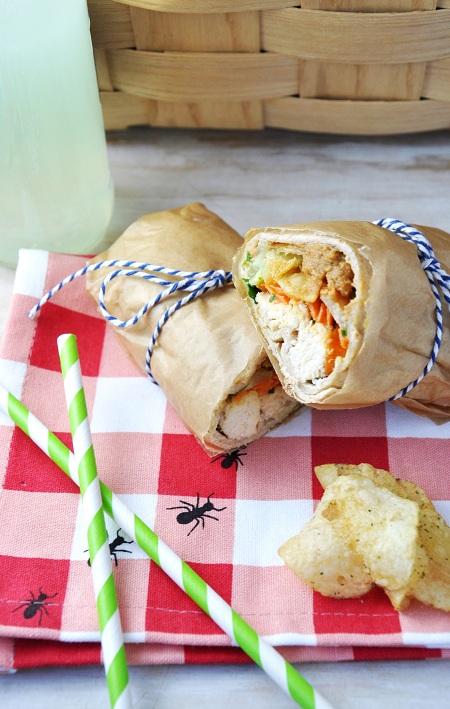 Naturally, during the spring and summer, we all spend much more time outdoors and out & about. For us, that often means packing our picnic baskets and exploring: We may go for a hike at the nature center, to play in the park or to listen to an outdoor concert.
Often packing for a picnic also includes some non-edible items in addition to food so since we are on the subject, let me share some picnic-packing tips with you: Non-edible items that we pack include a blanket, sunscreen, bug spray, Frisbee or bottles of bubble 'juice' and of course, napkins and utensils.
Depending on how many people you are packing for and how far you need to carry your picnic items, you need to determine whether to pack foods in disposable light-weight plastic or reusable (and dang cute) glass jars, as well as whether you use a picnic basket or a backpack.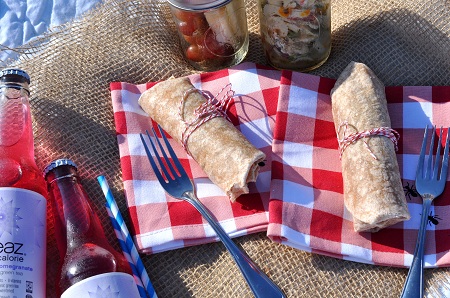 For edible items, we often pack plenty of beverages, snacks, and wraps or sandwiches. To help prevent any seepage, always pack your sandwiches in either wax paper, parchment or sandwich baggies.
Some of our favorite picnic snacks and side dishes include: hummus with carrots and cucumbers, grapes and cheese, bowtie pasta salad, tortellini salad, and potato chips.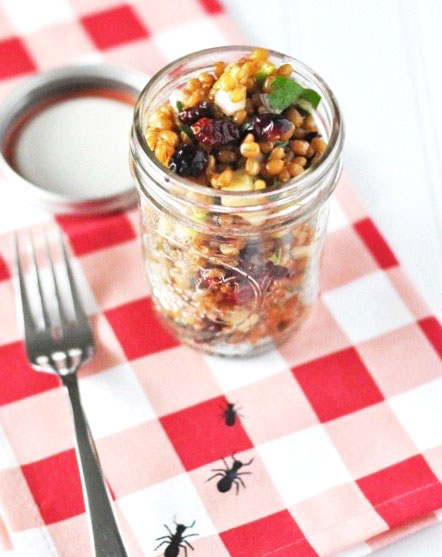 Speaking of chips; if I am going to have flavored chips, I want real flavor sources on my chips. What do I mean? Well, if I want salt & vinegar chips, then I want chips with salt and vinegar on them. If my husband wants a spicy chip, I give him Kettle Brand Chips spicy Thai™ chips. I like that Kettle Brand Chips are made of all natural ingredients, non-GMO oil and potatoes, no trans fats, MSG or preservatives (In fact, Kettle Brand is the first potato chip brand to be verified as using non-GMO ingredients by the Non-GMO Project).
I took him on a romantic picnic for lunch one afternoon and decided to make him this wrap because he loves Thai food and spicy foods. I think it is the sweetness and snap of fresh ginger mixed with the red peppery heat of Thai spice that he enjoys so much. I also grabbed myself a bag of the salt & vinegar because they are my favorite!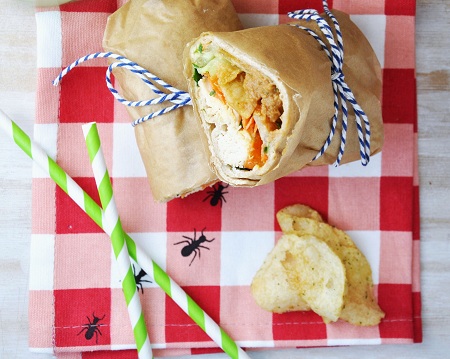 Crunchy Thai Potato Chip Peanut Satay Wrap Recipe (Yield = 2 wraps)
Ingredients:
2 tablespoons creamy peanut butter, room temperature or softened
2 tablespoons white vinegar
2 tablespoons low-sodium soy sauce
1 tablespoon grapeseed or vegetable oil
1 tablespoon lime juice
1/2 teaspoon dried basil or 1 teaspoon minced fresh basil
2 8-9 inch tortilla wraps
Handful of Kettle Brand Spicy Thai potato chips*
1/2 – 1 skinless, boneless chicken breast, cooked and sliced
1/3 cup sliced cucumber
Handful of shredded carrot
1 scallion, chopped
1/3 red pepper, sliced (not shown)
1/4 cup cilantro, chopped
Directions:
1. In a small bowl, whisk together the peanut butter, vinegar, soy sauce, oil, lime juice and basil.
2. Spread the peanut sauce amongst the two wraps and then fill with remaining ingredients from potato chips to cilantro and roll into a closed wrap.
*If you prefer, eat the chips on the side but I always enjoy the crunch that the chip adds to a sandwich.
We're giving away a $100 Visa Gift Card to one lucky reader! To enter for your chance to win, leave a comment answering the question, "What do you include in your picnic basket?"
Rules:
No duplicate comments.
You may receive (2) total entries by selecting from the following entry methods:
a) Leave a comment in response to the sweepstakes prompt on this post.
b) Tweet (public message) about this promotion; including exactly the following unique term in your tweet message: ""#SweepstakesEntry""; and leave the URL to that tweet in a comment on this post".
c) Blog about this promotion, including a disclosure that you are receiving a sweepstakes entry in exchange for writing the blog post, and leave the URL to that post in a comment on this post.
d) For those with no Twitter or blog, read the official rules to learn about an alternate form of entry.
This giveaway is open to US Residents age 18 or older. Winners will be selected via random draw, and will be notified by e-mail. You have 72 hours to get back to me, otherwise a new winner will be selected. The Official Rules are available here. This sweepstakes runs from 5/20 – 7/3.
Be sure to visit the Kettle Brand Chips brand page on BlogHer.com where you can read other bloggers' reviews and find more chances to win!