I have said it at least 5 times: you want your kids, or anyone really, to try something, add bacon.
We had a few leftover roasted potatoes so I sliced them and tossed them on the salad.
Use whatever greens you wish as the spicy bite of arugula may throw some children off a bit.
But do not forget the bacon or you have a 1% chance of getting them to eat this.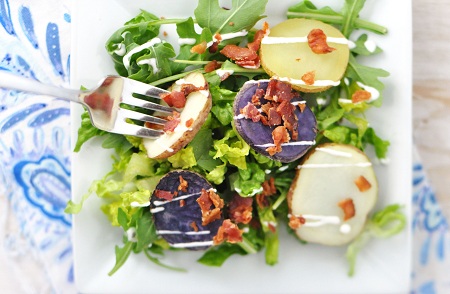 Tri-Color Potato & Bacon Arugula Salad Recipe (Yield = 4 side servings)
Ingredients:
2 cups baby arugula
2 cups romaine lettuce
4 slices of bacon, cooked
Cooked potato (gold, red and purple shown in photo)
Directions:
1. Mix the lettuces together and divide among 4 plates or bowls.
2. Chop up the bacon and potato. If the potatoes are not cooked, slice them and place onto a microwave safe plate. Cover with a damp paper towel and microwave for 3 minutes in high. If not fork tender, repeat a one minute increments).
3. Top with bacon, potato and your favorite dressing.