In case you haven't noticed, I have not been posting many recipes lately.
Why? well, let's begin with: Kids are out of school, my parents were visiting, there is so much going on with the book and it is time consuming to style, take photos, edit photos etc.
But I am trying to keep up. I am working on two recipes today, then we need to get to painting in my son's room since we have been promising him to paint his room once school finished.
The recipe that I am sharing today is a sandwich that I whipped up yesterday using some leftover chicken, salad fixins, lettuce and tolls that the in-laws brought down the other day.
Happy Summer!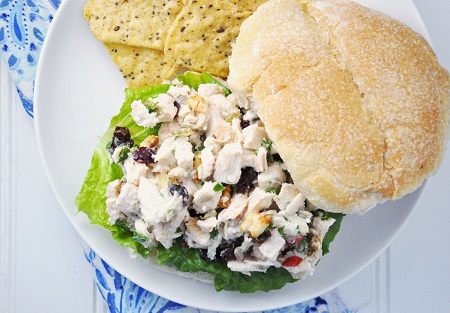 Crunchy & Healthy Chicken Salad Sandwich Recipe with Salad Fixin's (per sandwich)
Ingredients:
1 cup of chopped cooked chicken
2 teaspoons chopped fresh parsley or favorite herb
1 tablespoon reduced fat mayonnaise
1 tablespoon reduced fat dour cream
2 tablespoons salad fixins (I used Gerbs cracker crunch)
Fresh lettuce
Fresh Bread
Directions:
Mix all ingredients well and serve with lettuce on fresh bread or skip the bread all together.