I know it sounds impossible but it is possible to continue to eat healthy and keep the family active while traveling. I know so because we have done it.
From hiking to packing food to only staying at hotels with indoor pools, we make sure to fit in fitness and healthy food choices.
When you travel, do you look for hotels that provide special activities that keep your kids active and moving? How much do better-for-you menu choices impact your decisions?
Join me and the TravelingMom network for the 'Happy Healthy Travel for Kids' Twitter party at 9 pm EDT on June 14 for a fun and informative discussion about healthy kids' travel.
During this party, we will discuss Hyatt's new healthy menu options 'For Kids By Kids menu'. Hyatt has worked with Chef Alice Waters to design a three-course seasonal, organic menu!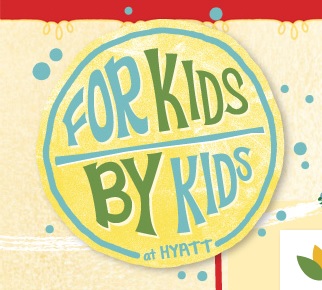 To join in this informative discussion, follow me and the hashtags #TMOM #HyattKids
During the party there will some great giveaways including: a kids' chef coat and adult chef apron, and a Grand Prize of two hotel nights at Grand Hyatt, Hyatt Regency PLUS one breakfast for four. (North America only, excluding Hawaii)
To be eligible, you must:
1. RSVP by leaving your Twitter handle in the comment section below. (If you aren't on Twitter, it's easy—and free—to sign up. Go to www.twitter.com to see how.)
2. Have at least one tweet on the party from 9-10 pm EDT on June 24
Disclosure: I will be compensated as a Twitter panelist during the party.