We planted basil in our garden about two weeks ago. We had grown the seedlings and once the plant had a respectable number of leaves, we transplanted it.
In the past two weeks, the plant has been sprouting leaves like there is no tomorrow.
I was brainstorming, as well as asking, on Facebook and Twitter, about what to make with fresh basil.
Naturally, there were plenty of pesto replies, as well as, caprese recipes. I thought more about it and what the family would like.
I talked to my daughter about it and asked her, 'Would you like to help me make a Basil Tomato soup?' She replied 'Sure!'
By the way, this is a great soup both hot and cold!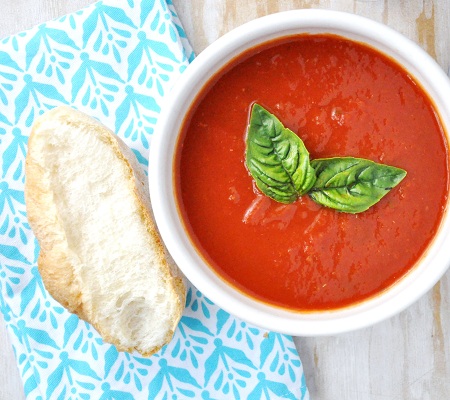 Fresh Summer Basil and Tomato Soup Recipe (Yield = ~ 7-8 cups)
Ingredients:
2 tablespoons grapeseed or olive oil
~1/2 cup finely chopped sweet onion
2 stalks of celery, finely chopped
2 cloves of garlic, finely chopped
2 cans (28 ounces each) no salt added crushed tomatoes
10-15 large fresh basil leaves, finely chopped
2-3 fresh oregano leaves or a 1/2 teaspoon dried
1 cup red wine, optional
2 cups low sodium vegetable broth (use two cups if omitted wine)
1 teaspoon freshly ground black pepper
Directions:
1. Heat the oil in a large pot over medium heat. Saute the onions, celery and garlic for about 5 minutes.
2. Add the tomatoes, basil, oregano, wine, broth and pepper. Bring to a boil and simmer uncovered for 25-30 minutes. Once cooled, puree with an immersion blender if you wish. Taste for seasoning. Serve hot or cold.