During the summer, fast & refreshing recipes are the way to go.
So are what I like to call 'pick out what you don't like' recipes.
What do I mean? Well, when I place this salad in front of the family tonight, here is what will happen:
Daughter: 'I don't want the onions Mom'
Son: 'I don't want the tomatoes Mom'
Husband: 'Yum'
Me: 'Pick out what you don't like, give it to Daddy and eat the rest of the salad'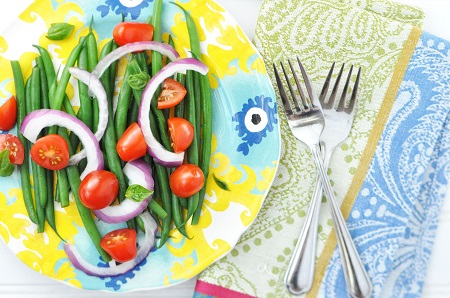 Haricot Verts (French Green Beans) Salad Recipe with Tomatoes, Onion & Basil (Yield = 4)
Ingredients:
12 oz. bag Haricot Verts (Fancy French Green Beans)
8-10 grape or cherry tomatoes, halved
1/4 red onion, slivered
A few fresh basil leaves
dressing of choice (lemon juice or vinegar and oil best)
Directions:
1. Cook the green beans for 1 minute less than instructed on the package or until just shy of fully cooked.
2. Quickly immerse into ice cold water. Meanwhile, prepare the remaining ingredients.
3. Drain the green beans and toss all ingredients in a bowl and serve. This also is a fun side dish recipe.