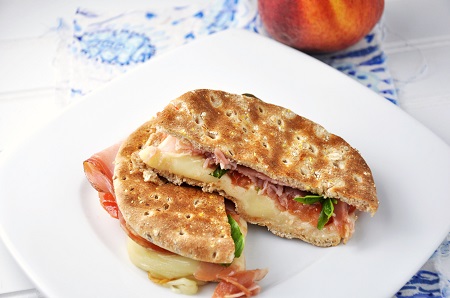 I have already mentioned a number of times that my husband is Portuguese. Knowing this, you should understand that cured meats are included at all social engagements, holidays, dinners and for any and all reasons.
Therefore, my children are not immune to having various meats tossed in front of them at Vovo's house.  Although we keep try to keep lunch meats at a minimum, when I saw the Prosciutto displayed today at the store, I grabbed some immediately.
Once we arrived home, I plugged in the indoor grill, had the kids grab some basil from the garden and got to making this deletable delight.
Prosciutto and Caprese Panini Sandwich Recipe (Yield = 1)
Ingredients:
1 sandwich roll or bread of choice
1 slice of mozzarella cheese
2 thin slices of Prosciutto
2 slices of tomato
2-3 leaves of fresh basil, whole or chopped
1 teaspoon of balsamic vinegar or dressing
Directions:
1. Heat the grill while you stack the ingredients upon the bottom piece of bread. Drizzle on the balsamic and top with remaining slice of bread.
2. Grill until the cheese is melting, remove from the heat and enjoy.