I have been obsessed with Panera Bread's latest and greatest salad, the Chilled Shrimp & Soba Noodle Salad. So obsessed that the kids demanded that they get to try it and see what all the fuss was about.
With all the school shopping and running around preparing for company over the past few weeks, I have purchased the salad about four times in the past month and decided I had to make my own version. Problem is, that we all ate it before I realized that I should have snapped a photo. Therefore, the photo below is not my own version as I simply tossed the PB version onto a plate.
Below I share how to make it for yourself and your kids lunchboxes and don't worry if the kids do not enjoy shrimp as any protein would be a delicious substitution.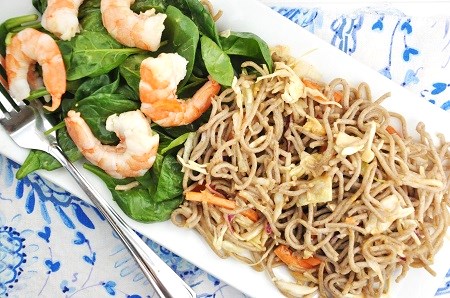 Chilled Shrimp & Soba Noodle Salad Recipe
Ingredients:
6-8 large cooked and chilled shrimp
1 cup cooked and chilled soba noodles
1 cup of baby spinach
1/2 cup coleslaw mix
1 teaspoons of sesame seeds, optional
Peanut or any Asian inspired dressing
Citrus dressing/vinaigrette
Directions:
1. Prepare the shrimp and noodles and set in the refrigerator to chill.
2. In a bowl, mix the coleslaw mix with the chilled noodles, sesame seeds and peanut dressing. In another bowl, place the spinach green and top with the shrimp and citrus vinaigrette. Enjoy the noodles and spinach salad tossed together or side by side.