I may have already mentioned that starting mid-Summer, our daughter started having some stomach issues. While awaiting for results from a second round of tests, the pediatrician advised us to stop dairy for three weeks and see if it helped so we had to kick off the school year with this in mind.
As many on food restricted diets know already, it can be surprising how many foods contain an ingredient you may not think you have to be concerned about, such as, bread. Do you know many breads contain milk powders? Well, they do.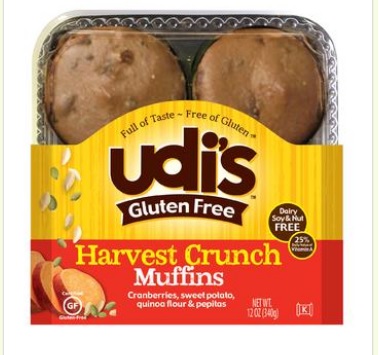 So, I set off planning the school lunches as well as all family meals with the needs and preferences of our daughter in mind. I found that I could get some of her favorite items from Udi's (Yes, the gluten-free folks!).  As you know, I have worked with them in the past so asked them about dairy-free products and was blown away by the choices: muffins, bagels, breads, granola, tortillas and cinnamon rolls!
We were impressed with the taste, texture and options. Our daughter was already a hug fan of their muffin tops and often has one for breakfast, so the fact that would could send her to school with some other items she would enjoy was great. Naturally, she we all dove for double chocolate muffins but we equally thrilled with the harvest crunch – yes, even the kids!
The tip I would give here is that if you need to restrict your diet, you may need to look for foods that may lack other ingredients (gluten in this case) but will still be tasty and not feel like a sacrifice. Plus, we all could benefit from a little less gluten or dairy once in a while, even if you don't 'have' to do so.