Starting today, September 15th and running though September 22nd, $2 from each and every Rhode Island Recipes E-book will be donated to the Ronald McDonald House Providence.
The eBook sells for only $8.99. The 30 recipes, including full-color photos of each, use 17 iconic Rhode Island food products like Del's Lemonade, Dave's Coffee Syrup, Rhode Island Red Hot Sauce, Wicked Natural mustard, and more (plus, substitutions if you don't have the exact item)!
The Ronald McDonald House of Providence provides programs that directly improve the health and well-being of children and their families and the funds raised with the sale of the Rhode Island Recipes eBook will help ensure a happier holiday season for the families who are staying close to their hospitalized children.
Buy the eBook for yourself or as a gift — and read it on any device with the free Kindle app. If you're thinking about giving the print edition as a holiday gift, you can preview all of the recipes in the e-book edition.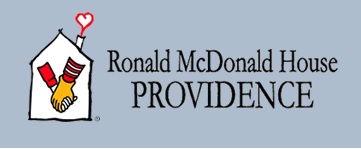 You may also need some convincing why you should buy an electronic version of the book when you are obsessed with splattering all over a printed cookbook. I get it and so does Lydia, so take read these four reasons why you should give e-books a try!