Does peanut with potatoes sound weird to you? Never thought of it right? I had not either but while preparing to go grocery shopping, I was flipping through the coupon circular and spotted an ad.
The ad was for a peanut panko coating mixture in a box and showed a few photos, one of which was of the product tossed on potatoes. Since my son is a peanut fanatic and devastated that he can no longer have PB at school, I decided to make this for him.
The peanuts were not an over-powering flavor at all, so this is a nice recipe to make as a way to make the basic roasted potatoes a bit more interesting. Also, if your kids do not want to try potatoes (other than in fry form), this may get them to give it a shot.
Please note: I took the photos after they spent a night in the fridge so some of the coating was knocked off AND I did not crush the peanuts too much for photo purposes so you be sure to smash 'em up a bit more.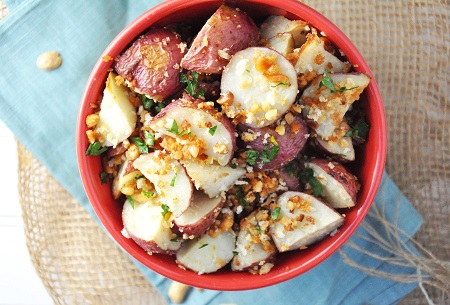 Vegan Side Dish Recipe: Roasted Peanut Panko Potatoes (Serves 4)
Ingredients:
1.5 lbs of red potatoes
2 tablespoons of grapeseed or olive oil
1/3 cup of dry roasted and lightly salted peanuts, crushed
1/4 cup panko bread crumbs
Directions:
1. Preheat the oven to 400 degrees Fahrenheit. Cut the potatoes into 1-inch chunks and place in a bowl. Toss with the olive oil, peanuts and panko bread crumbs and scatter over the baking sheet covered with parchment paper.
2. Bake for 25-30 minutes and check for fork tenderness. Once they are done cooking, taste and season with salt and pepper to taste.