Continuing on my lazy busy-day recipes that I made while company was visiting this week, comes this 2-minute to prepare Herbs de Provence Salmon Recipe.
This is a perfect weekday recipe because all you do is simply mix in some dried Herbs de Provence with some mustard, slap smear it onto the Salmon and pop it into the oven for 20 minutes.
Serve over salad and you are done.
Now see who will do the dishes for you.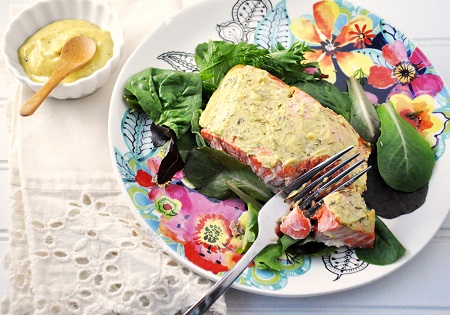 22-minute Herbs de Provence Salmon Recipe (serves 4)
Ingredients:
1 ½ lbs. of sockeye Salmon
4 tablespoons mustard (wicked natural caramel mustard would be a great choice)
1 teaspoon dried Herbs de Provence (or favorite dried herbs)
Directions:
1. Preheat oven to 400 degrees Fahrenheit. Mix the mustard and herbs together and spread onto the Salmon.
2. Bake Salmon for 20 minutes or more depending on thickness.