Here's the deal: My kids will tell you that they do not like meatloaf however they adore meatballs and meatball subs.
I decided to create a classic meatloaf recipe (albeit with bison and oats so it is a 'twisted' classic), and then serve it on rolls and call it meatball sliders.
They knew it was a bit different when I removed them from the oven and even commented that it looked like meatloaf. I simply said, well, I guess it is but I cooked it this way so it would fit onto the mini-rolls. There were no further questions and all was consumed within a few minutes.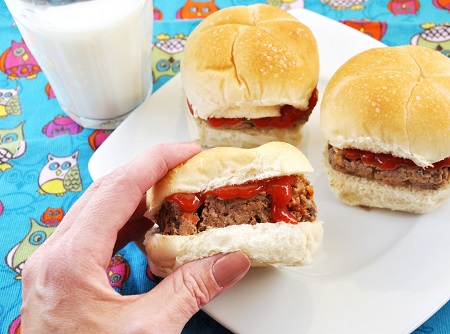 Classic Bison Meatloaf Sliders Recipe (Serves 6)
Ingredients:
1 large egg
1/4 cup plain bread crumbs
1/4 cup old fashioned oats
1/4 cup chopped sweet onion
2 garlic cloves, minced
1 celery stalk, minced
1/2 carrot, minced
2 tablespoons ketchup
1 pound ground bison
1/4 teaspoon sea salt
1/4 teaspoon ground black pepper
12 mini-sized rolls
Directions:
1. Preheat oven to 375 degrees. Whisk the egg in a large bowl and then add all remaining ingredients and mix gently with your fingers or a fork.
2. Line a baking sheet with parchment paper. Place the mixture on prepared baking sheet, and form into 2 small loaf shapes.
3. Bake for 30 minutes or until a thermometer registers 165 degrees. If you wish, you can brush on more ketchup during baking, or plan to serve with marinara for more of a meatball flare.
4. Slice the meatloaf into thick pieces and serve on the rolls with more ketchup or marinara sauce.