I will repeat myself once again: we are vinegar-a-holics.
We do not seek help for this addiction; we simply continue to feed it.
Last week, I ran across a display of figs at a local grocery store and knew immediately that combining them with balsamic vinegar would be a great way to get the kids to try figs again without really knowing that they were trying figs.
Therefore, I picked up the pack of nine figs however, when I pulled the package from the fridge the next day, a few figs were missing.
I quickly beckoned the suspect to come 'splain the missing figs. The guilty party exclaimed 'I love figs'.
We have been married 12 years yet I had no idea of his fig-affection.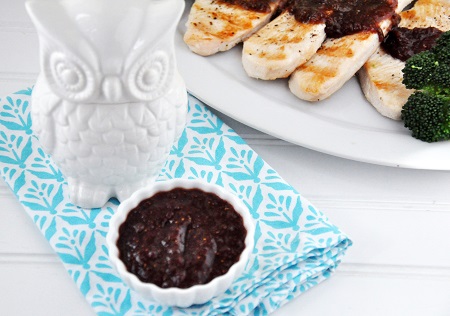 Fig & Balsamic Glaze Recipe served over Turkey (Yield = 2-3 Tablespoons)
Ingredients:
5 fresh figs
1 teaspoon maple syrup
3 tablespoons of balsamic vinegar
1/2 cup water
Directions:
1. Remove the stems from the figs and cut the figs into small pieces. Place into a small saucepan with 1 teaspoon maple syrup, 1 tablespoon of balsamic vinegar and water.
2. Bring to a boil, reduce to a simmer, cover and allow to simmer until most of the liquid has evaporated (maybe 10 minutes) and the sauce has thickened.
3. Allow to cool a few minutes and then place into a mini-chopper or small food processor and pulse. If the glaze/sauce is too thick, feel free to add a bit of water.
4. Smear over turkey and serve.