I bet you have been bombarded with pumpkin spice latte coffee galore so I decided to share something non-pumpkin that I made today.
I decided to get fancy with my coffee drink in hopes that it would help charm away the 5-day headache that is haunting me.
My plan has not worked but I sure enjoyed the coffee.
Whipped cream and sprinkles help too.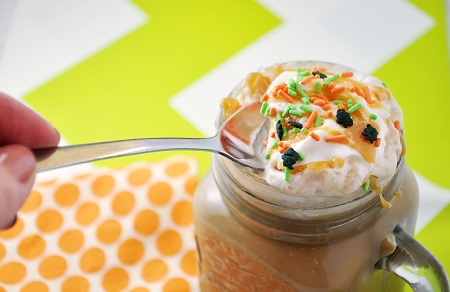 White Chocolate Mocha Coffee Recipe (Serves 2)
Ingredients:
1/4 cup quality white chocolate chips
1 teaspoon unsweetened cocoa powder
1/4 cup half & half
2 cups freshly brewed coffee
Stevia to taste, optional
Directions:
1. Melt the white chocolate chips in a large saucepan, over low heat.
2. Whisk in the cocoa powder, half & half and coffee. Pour into two mugs and carefully sip (it will be hot), adding Stevia or sweetener if necessary. Share of enjoy all to yourself.