Not every leftover recipe involves turkey you know. Okay, well maybe for the next two weeks, but the other fifty weeks a year there are other proteins involved.
After the Barrington Library book signing, I had a little bit of the coffee pulled pork left, so I grabbed some chips and started salivating.
Feel free to use your favorite gluten-free chips or even potato slices if you need to eat gluten-free or paleo.
crunchy-munchy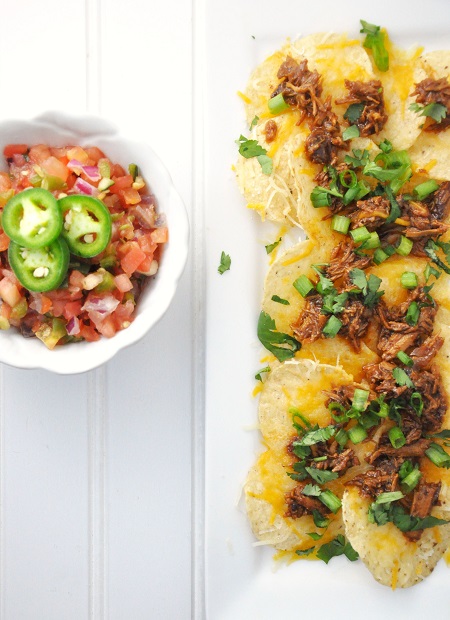 Leftover Slow Cooker Pulled Pork Nachos Recipe (yield = 4 but varies depending if snack or meal)
Ingredients:
~4- 6 oz. (1/3 bag) of your favorite chips
~1 cup pulled pork
~1/2 shredded cheddar and monterey jack cheese mixture
~2 scallions, chopped
~1/3 cup salsa for dipping or topping
1 small jalapeno, finely chopped, optional
Directions:
1. Place the chips, in batches, on a microwaveable plate. Top with pork and cheese and microwave on 50% power until cheese has melted.
2. Top with salsa and jalapenos. Serve with napkins.