There is no reason to take that tone folks. There is plenty you can do with these garlic cloves including making Christmas or Holiday gifts!
You can toss these on an antipasti platter, on salads, spread them on bread, chop them and toss into any recipe….
or eat them straight up.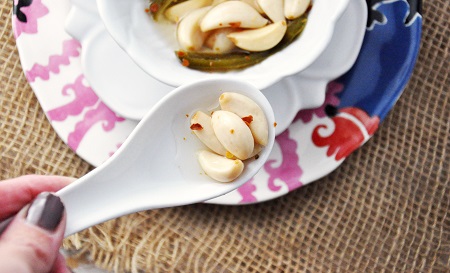 Spicy Pickled & Marinated Garlic Cloves Recipe (Makes ~1.5 quarts)
adapted from marthastewart.com
Ingredients:
18 heads garlic
4 cups white-wine vinegar
2 tablespoons sugar
1 tablespoon red pepper flakes
4.25 oz. can of whole green chilies
Directions:
1. Prepare garlic cloves by slicing off the head, peeling off the papery skin and set aside.
2. In a medium saucepan, combine vinegar and sugar in the pan and bring to a boil over high heat for 2 minutes more. Add the garlic and boil for 4 minutes. Remove from heat, add the red pepper flakes and chilies, cover, and let sit overnight in refrigerator.
3. The next day, you can can, place in a sterilized jar, or store the garlic cloves in the refrigerator in an airtight container up to 1 month.