There is a new cookbook, from the Cooking Light team called Dinnertime Survival Guide, that I have been excited to get my hands on. It was described as a reliable family handbook to help get dinner on any family's table in an easy, efficient and healthy way and they certainly delivered!

Components in this book that I enjoy include:
Full-color photos: One thing I learned when preparing to write our cookbook, is that everyone wants a full-color photo for every recipe.
Smart Advice

: Hard-won kitchen wisdom from mom, registered dietician and author Sally Kuzemchak as well as other expert moms from around the country who help tackle the "never ending assignment" we know as dinner.
Mealtime Tricks

: Dinnertime offers several "tricks" to put in place to help make you better at

cooking

for your family. For example, if you usually plate food in the kitchen, start serving meals family-style. You'll find it a simple change but one that will empower your family and make them receptive to new things. 
Tasty Recipes:

 150 recipes that are doable no matter what predicament you're in and that your whole family will eat including "Rosemary Oven Fried Chicken," "Spring Vegetable Carbonara," "Shortcut Chicken Soup," "Stovetop Macaroni and Cheese" – all easy and healthy thanks to

Cooking

Light

testing and perfecting them.
Solutions for the Top 10 Challenges:

 Hectic schedules, picky eaters, you can't cook, stuck in a food rut, your boss is coming to dinner? Sally has these and any issue covered.

Must Haves: Sally lists the staples to have on hand so by the end of the week you don't feel tempted to order take-out, how to easily keep track of what you use and dont use, how to get creative when duty calls and more.
Nutritional Information: You want/need it, it is in here however, they do not indicate whether each recipe is dairy-free,gluten-free etc.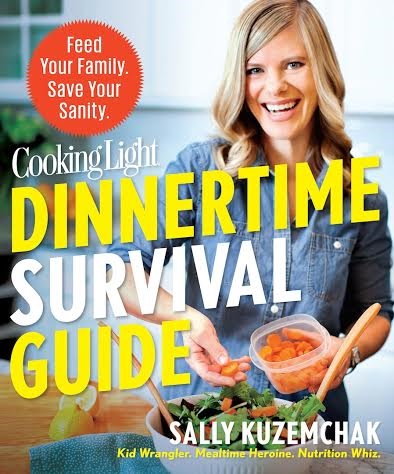 One recipe that caught my eye as a unique idea was the Grilled Peanut Butter Split Sandwiches because you can make a bar/buffet out of this. I would up the nutritional value by using a whole grain bread and organic ingredients. Yum!
Grilled Peanut Butter Split Sandwiches (Serves 4; p. 54)
Hands-on times: 15 min. Total time: 15 min.
Sure, these sounds more like desert than dinner, but every once in a while I like to throw my kids a curve-ball. Just to remind me that yes, I really am the best mom in the whole world.
Ingredients:
8 (1-ounce) slices firm white sandwich bread, divided
4 teaspoons butter, softened
¼ cup creamy peanut butter
8 teaspoons honey
2 teaspoons semisweet chocolate mini chips
4 large strawberries, thinly sliced
2 small bananas, cut into slices
¼ cup pineapple jam
1. Spread one side of each white bread slice with ½ teaspoon butter. Place bread slices, buttered side down, on a large sheet of wax paper.  Combine peanut butter and honey; spread over plain side of 4 bread slices. Sprinkle with chocolate chips; top with strawberry slices and banana slices.
2. Spread pineapple jam over plain side of remaining 4 bread slices. Carefully assemble sandwiches with the buttered sides on the outside.
3. Heat a large nonstick skillet over medium-high heat. Add 2 sandwiches; cook 2 minutes on each side or until lightly browned. Repeat procedure with remaining 2 sandwiches.
CALORIES 436; FAT 14.5g (sat. 4.2g, mono 6g, poy 3.2g); PROTEIN 9.4g; CARB 72g; FIBER 4.6g; CHOL 10mg; IRON 3mg; SODIUM 497mg; CALC 100mg
By the way, love cookies? There is a recipe for White Chocolate, Strawberry & Oatmeal Cookies that I will be making this week!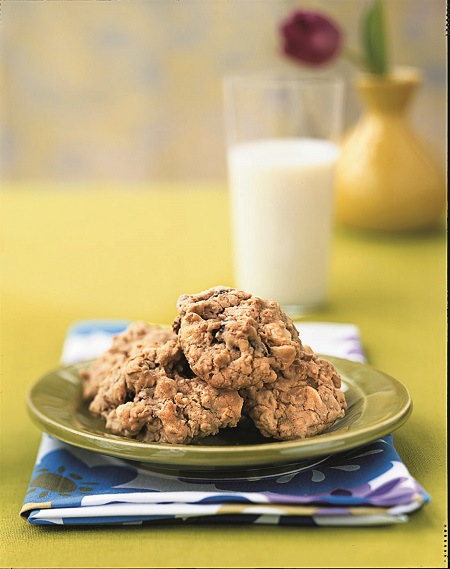 Disclosure: i was sent a copy of the book but decided to share my opinion, because I enjoyed the book.