Until mid-May, all of my time wearing Invisalign has been while being a work at home Mom (I am a member of the Invisalign Mom Advisory Board. I will be receiving complimentary treatment from Invisalign).
While at home, I would remove the invisalign aligners, set a kitchen timer, have my snack, lunch, coffee etc., and then pop into the bathroom, wash up and place the aligners back in. In fact, I had a set-up in both an upstairs and downstairs bathroom, that included a toothbrush, floss and mouth wash. However, at work, I need to walk the supplies down the hall to the bathroom, spread them out and go about cleaning.
Therefore, I have had to adjust to making sure I have enough time before a meeting or making sure I replace them as soon as I can. It has made me mindful about not removing them too often and making sure I don't snack or have coffee just prior to a meeting.
I have also found myself having to be careful to try to be discrete while removing the aligners from my mouth and being in a cubicle doesn't make that easy but I am rather adept at a quick removal. I also can't be tossing them in a bowl on the counter like I could when working at home.
I packed a toiletry bag with a toothbrush, disposable flossers, a travel sized mouthwash and a container to keep the aligners in when they are not in my mouth.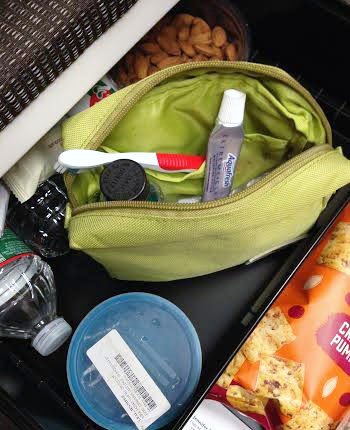 A few of my colleagues know that I have Invisalign and have asked me a few questions so let me take some time to bust some myths:
Myth: Invisalign can only treat minor or cosmetic issues.

Setting it Straight: Invisalign effectively treats a wide variety of orthodontic issues including severe bite issues. From underbite to crossbite, deepbite to overbite and overly crowded to widely spaced, advancements to Invisalign's patented technology continues to increase the complexity of issues that can be treated.

Myth: Invisalign is more expensive than metal braces.

Setting it Straight: The cost of Invisalign is usually comparable to the cost of traditional braces and many dental insurance plans cover Invisalign just as they would braces.

Myth: Invisalign takes longer to complete than braces.

Setting it Straight: The length of Invisalign treatment is comparable to braces. The average Invisalign journey averages about 12 months for adults. The length of treatment time for teens may vary depending on the severity of the case and can only be determined by a doctor.

Myth: If my dentist or orthodontist recommends braces over Invisalign, I should trust their opinion.

Not all orthodontists specialize in Invisalign. Visit www.invisalign.com and select "find a doctor" to locate experienced Invisalign and Invisalign Teen doctors in your area. If you are told you/your teen is not an Invisalign candidate, it may be worth getting a second opinion from more than one orthodontist. Doing so may help ensure that you have all the information you need to make an educated decision.

Myth: Braces work better than Invisalign.

Setting it Straight: Invisalign was developed with leading orthodontists to correct the most common teeth straightening issues – from severe cases to more minor, cosmetic adjustments. Invisalign's clear aligners are removable and can straighten teeth without a mouth full of metal and all the disruption and sacrifice that comes with it. With Invisalign, teens look better and feel more confident than they ever could in traditional braces.

Myth: We can't afford Invisalign.

Setting it Straight: Invisalign Teen is covered by many dental insurance policies just like traditional braces — up to 50% of the cost may be covered by insurance. Even if dental insurance doesn't apply, many doctors will help parents find options to make straightening their child's teeth more affordable. Many offer flexible and affordable monthly finance plans that can be as low as $99 per month.
Disclosure: I am a member of the Invisalign Mom Advisory Board. I will be receiving complimentary treatment from Invisalign, but all opinions expressed are my own.