When my husband is working at home alone, it makes sense for him to use a single serve pod type of brewing system. However, when we entertain, we pull out the multi-cup coffee pot. You know, the 'old-fashioned' kind.
Seeing that we love to entertain, we always have some quality coffee on hand in order to meet different tastes and preferences. Usually that includes a dark roast, light roast and a decaf variety. Therefore, when Millstone contacted me about entertaining with their new varieties, it was a no-brainer.
By the way, coffee not just for drinking. In summer, not only do I drink iced coffee but I want to eat iced coffee for dessert. Therefore, when entertaining, go ahead with serving a dark roasted coffee dessert and a lighter roast or decaf variety to drink!
Millstone® premium packaged coffee has expanded its portfolio with the introduction of two new blends including  Millstone Mayan Black OnyxTM and House Blend varieties. For today's recipe, I used the Mayan Black Onyx which is a darker, bolder coffee.
They use their finest Arabica coffee beans, that are grown high in the mountains before being roasted to produce a dark, full-bodied blend with a bold finish. This blend is Certified USDA Organic and Fair Trade CertifiedTM – Hooray!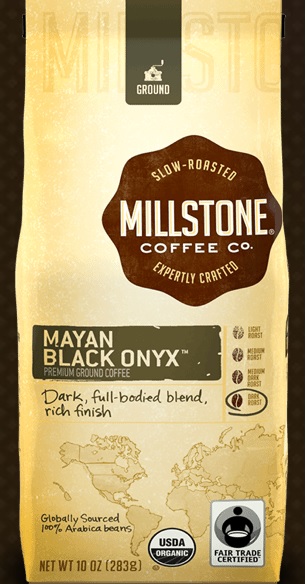 Iced Coffee Granita with Vanilla Whipped Cream & Sea Salt Caramel
Ingredients:
4 cups of dark, bold coffee
1 cup sugar
1/2 cup half-n-half
1 Tablespoon quality vanilla
2 cups whipping cream
1/3 cup confectioner's sugar
1 teaspoon vanilla
Sea salt Caramel
Directions:
Brew the coffee and allow it to cool for a while. Stir in the sugar and vanilla and mix until the sugar is dissolved.
Pour the mixture into a 9-by-13-inch glass, ceramic or metal baking dish. Freeze for one hour and then, in 30 minutes increments, use a fork to scrap the mixture until completely frozen but with fluffy ice crystals. The amount of time will vary depending on the baking dish.
In a large mixing bowl, whip the whipping cream, confectioner's sugar and vanilla on high until stiff peaks form.
Scoop some of the granita into a bowl, top with whipped cream and drizzle on some store bought sea salt caramel/sauce. Heck, toss on some sprinkles if you wish.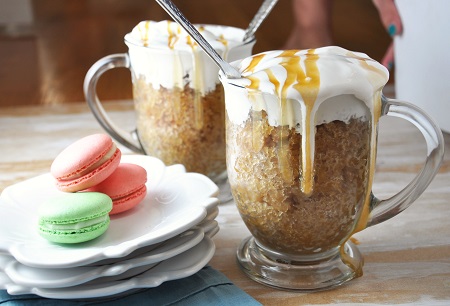 Disclosure: I am a Millstone Coffee Blogger and have been compensated for my time and ingredients.