We are in month two of our Contour by Cox Communications  and thanks to the iPad app, my iPad is getting some serious usage. I showed the kids how, even when we are at Vovo's house, we can make sure their favorite show is being recorded, and they went nuts.
You can see at the photo above that my son is on the iPad, but what you can't see is that he is looking at other similar shows to the ones he has set to be recorded (he is really into the weather channel and geography shows). What do I mean you ask? The home screen of the app is personalized so it will show you some shows that you may like, based on your past selections. You can even just tap the show icon and watch a snippet.
Now you want to know what else you can do with the app? Well, the Contour Guide on your iPad the app can give you more information on a show, set your TV at home to record a show, and show you what is available to watch on your iPad or TV. Heck, this bad boy will even show you when some recommended shows are on.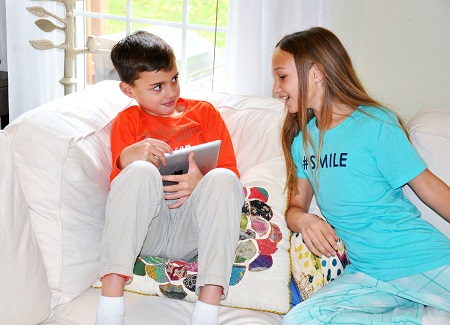 And it doesn't stop there because I played around with the Contour app one night and saw I can even see what programs are currently playing 'on demand'. That comes in handy when I want to see what family friendly shows or movies are on without the kiddos knowing. If I find something that interests me, I can put it in my 'Library' on the 'Watch List'.
Oh, in case you are wondering, the answer is yes, just like on your television, you can have multiple profiles on the app too! Notice in the photo above, that older sibling has come along bugging younger sibling about when she gets a turn to use her profile on the iPad app.
Speaking of our daughter, she has had some friends over to watch some shows that she and her friends have missed – looks like we will continue to host viewing 'parties'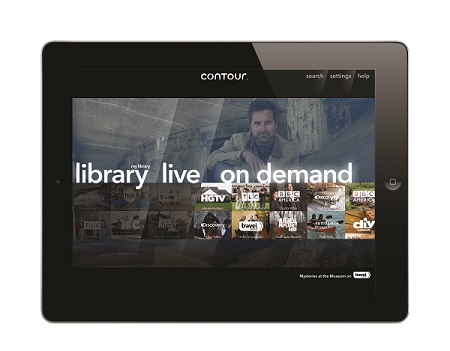 Disclosure: I am a member of Everywhere Society and a Cox Communications' brand ambassador reviewing Contour by Cox. In addition to compensation, we are receiving a trial membership so I can honestly share my experience and thoughts.