Over the past few months we have been enjoying the numerous features of Cox Contour. Since we have been using it a few months now,  I wanted to share our top seven reasons we enjoy Contour and how they have positively impacted our family life:
1. I love the flexibility it has given us. We are not a couch potato family at all but each person has their favorite shows and now that we can DVR them, and even watch them elsewhere using the Contour iPad app, we do not worry about 'missing' a show, racing home to watch it, or missing a gorgeous day outside.
2. Since we can record six shows at once, there is no bickering about why one show is being recorded instead of the other.
3. I can use my iPad and the Contour app to set the DVR.
4. I am the one that will grab the remote to mute commercials while everyone else moans and complain about why I need to do that, but with Cox Contour, I simply fast forward through commercials when we sit to watch the recorded shows. (look at the photo below as I am about to fast forward through commercials).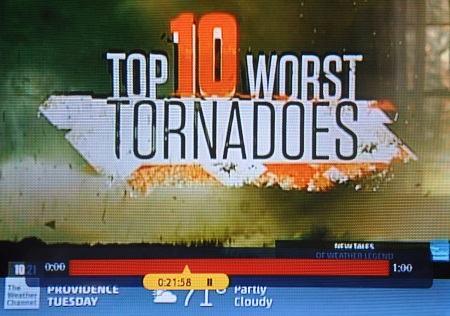 5.  I can use my iPad and the Contour app to watch shows in my home office (Shhhhh, I do this during lunch time).
6. I love that my husband can be cleaning in the shed, garage, or be outdoors and, while using the Contour app, watch the Patriots football game. He does not often sit to watch TV so I like that he can watch what he wants, when and where he wants while tackling his to-do list.
7. I love that I can let our children listen to Pandora on channels my hubby and I have approved.
If you are interested in trying Cox Contour, here is where it is currently available (just scroll to the bottom).
Disclosure: I am a member of Everywhere Society and a Cox Communications' brand ambassador reviewing Contour by Cox. In addition to compensation, we are receiving a trial membership so I can honestly share my experience and thoughts.