A rather catchy title eh? I find it cute and to the point because I really am a Dancing Deer Doe.
Confused? Don't be.
I am sure you have heard of – or most likely bitten into –a delicious Dancing Deer cookie or brownie before. I am now working with the yummy company.
I recall being given a sampler of their Lemon Daisy Shortbreads at a meeting – or maybe it was a blogging conference – and then noticing their products in a local Whole Foods and Shaws. I was so excited because the Lemon Daisy Shortbreads were so gosh darn good.
To celebrate the gift-giving season that is upon us, we are having a Twitter party to celebrate the holidays, talk about gift ideas and the fulfillment of giving, and give away some delectable Dancing Deer nibbles.
You will join me on Twitter, Wednesday, December 10th from 8-9 p.m. EST, won't you? In order to join, simply follow @DancingDeerCo and be sure to follow and use the hashtag #GiveDeerCheer.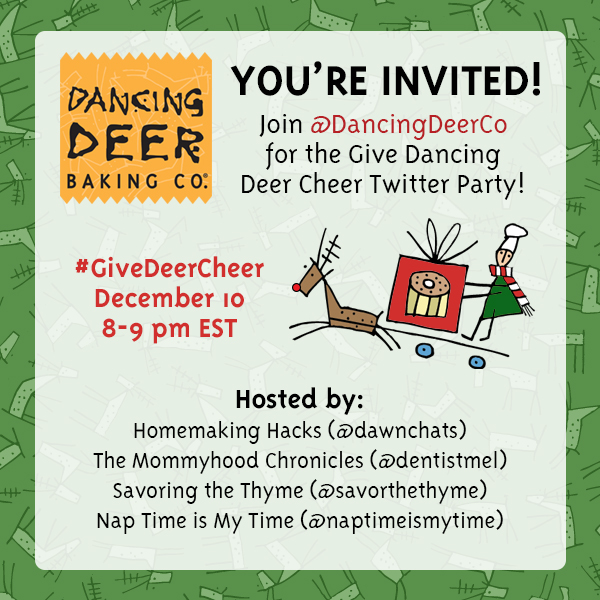 Besides, sharing the party details, I wanted to let you know a bit more about the company and why I am excited to work with them.
The first reason is that I enjoy eating Dancing Deer cookies (and brownies) as an occasional treat –  there is isn't all that gobbily-artificial gook, just straight up baking ingredients. They use unbleached, unbrominated wheat flour, non-GMO oils, and pure cane sugar (it is still sugar but no fake stuff, my friends).
The second reason is their Sweet Home Project. Dancing Deer wants to help end family homelessness in Massachusetts through a partnership with One Family, Inc. The Sweet Home Project, started in 2001, helps homeless families move into stable lives and homes of their own by providing funding and support for low-income single parents to complete their college education and enter family sustaining careers.
Fantastic right? Plan on joining us for the #GiveDeerCheer Twitter Party on Wednesday, December 10th from 8-9 p.m. EST!