Okay folks, I figured if I made a spring vegetable inspired dish, that it would help melt the 18,937 inches of snow that we had accumulated.
In fact, while I was making this dish, the kids were home from school while 12 inches of snow fell – there was supposed to be 3 inches.
*Ahem, forecasters*
Luckily, we did have one day of 50 degrees since this last storm. The warmer temperatures brought out the cray-cray in some peeps around here, as I saw a few folks out walking in shorts.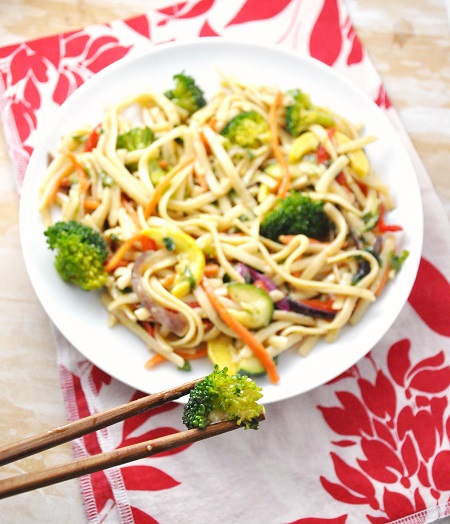 Asian Spring Vegetable Noodle Salad Recipe (serves 4)
Ingredients:
1 package soba noodles
2 cups of broccoli crown florets
1 small zucchini
1 red bell pepper, slivered
1 carrot, peeled and slivered
1/3 cup sliced red onion
1 scallion, sliced
¼ cup orange juice
¼ cup rice vinegar
¼ teaspoon garlic power
2 teaspoons sesame oil
2 teaspoons grapeseed oil
Directions:
1. Bring a large pot of water to a boil and cook the noodles according to package directions.
2. Meanwhile, bring a separate pot of water to a boil and insert the steamer basket. Trim ends from zucchini. Cut each one in half, then cut each half lengthwise into quarters. Place zucchini and broccoli florets into the steamer basket and steam for 8 to 10 minutes, or until the vegetables are tender.
3. While the vegetables are steaming, prepare the red pepper, carrots, red onion and scallion and place into a large bowl.
4. Prepare the dressing by whisking the orange juice, vinegar, garlic powder, sesame oil and grapeseed oil together.
5. Combine the dressing, all the vegetables and soba noodles.
p.s. Please don't look at this and think ' this is not gluten-free as I see linguini' as you need to pretend you are looking at soba noodles. I originally intended to use soba noodles but I did not get to the store thanks to the storm.