Many of your fond memories involving Pyrex®, a World Kitchen brand, probably involve baking with Grandma or Mom teaching you her favorite recipes, but not me. Although I sure Mom and Grandma have Pyrex products in their kitchen, my memories involve Science.
As you should know by now, that I am a Scientist and self-declared, 'Science nerd'. This means that my fondest memories involve Pyrex beakers and flasks. Now as a home owner, Mom and food blogger, my kitchen cabinets are bursting with Pyrex measuring cups and Pyrex bowls.
But, if reminiscing about Pyrex isn't exciting enough for you, how about this? 2015 is the 100th Anniversary of Pyrex and they are celebrating in a big way!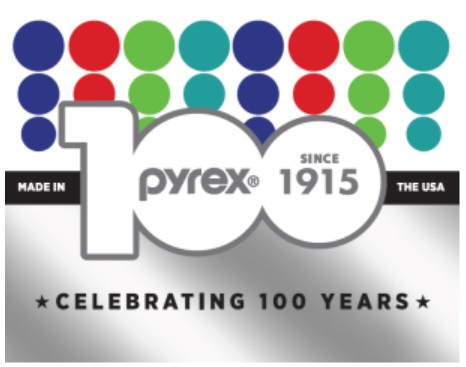 Fans can enter the #Pyrex100 Days of Giveaways on Pyrex100.com for a chance to win prizes including trips and products from the Pyrex® 100th Anniversary "Vintage Future" and "Centennial" collections (seriously, aren't they fabulous looking?!).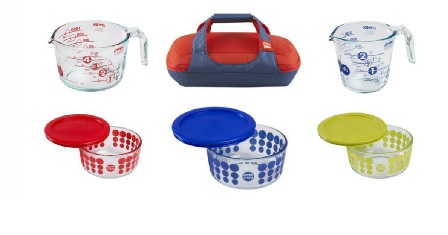 It is super easy to enter because all you have to do share a photo on Twitter and Instagram of you raising a Pyrex glass and use the hashtag #RaiseYourGlassSweeps. One of my favorite products from the Pyrex Anniversary collection, is the Portable casserole dish with hot/cold pack insert.
We made the lasagna recipe below and brought it to our new neighbors, along with heat pack, to welcome them to the neighborhood (gosh, I hope they return our dish).
It is important to our family that our neighbors feel welcome and part of the family and really familiar Pyrex kitchen staples + bacon + lasagna = comfort and love – right?!
Homemade Roasted Carrot Marinara Sauce (Yield ~ 8 cups)
Ingredients:
2 or more cups
Roasted Carrots 
2 teaspoons extra virgin olive oil
3/4 sweet onion, chopped
3 garlic cloves, chopped
2 (32 ounce) can crushed tomatoes
1 (32 ounce) can diced puree
1 cup water
A handful fresh parsley, chopped
1/2 teaspoon dried oregano
1/2 teaspoon dried basil
1/4 teaspoon each course salt & black pepper, optional
Directions:
1. In a large pot, heat oil over medium heat. Add onion and sauté until soft and translucent, about 5 minutes.
2. Add the garlic and sauté an additional 2 minutes, stirring constantly.
3. Add the remaining ingredients, mix and simmer covered on low heat for 1 hour.
4. Check for seasoning and adjust if necessary.
5. Once cooled down, puree with immersion blender or place half the mixture at a time into a blender, processing until smooth. You can always simply leave it nice and chunky.
If not using all the sauce, allow it to cool completely and pour 1 to 2 cup portions into freezer plastic bags or containers.
Bacon Lasagna Recipe (Yield 9-12 servings)
Ingredients:
1 package lasagna noodles
3 cups of ricotta cheese
2 cups of mozzarella, divided
A handful of chopped fresh parsley
10 – 12 slices of bacon, cooked and chopped
A few cups of Roasted Carrot Marinara Sauce
Directions:
1. Bring a large pot of water to a boil and cook the pasta per package instructions.
2. In a large bowl, whisk the egg and then mix in the ricotta, 1 1/2 cups of the mozzarella, bacon, and the parsley.
3. Preheat the oven to 350 degrees F. Spread some of the sauce on the bottom of a 9×13 baking dish. Then top with 3 pieces of pasta lengthwise, spread some of the ricotta mixture on top.  Then layer 3 more pieces of the pasta over the cheese, then sauce and then cheese. Repeat until you have used all of the pasta, sauce and noodles leaving a bit of sauce to place on the top.
4. Sprinkle with remaining mozzarella, cover with foil and bake for 30 minutes. Remove the foil and bake for another 15 minutes.
The Pyrex® 100 Days of Giveaways is sponsored by World Kitchen, LLC. There is no purchase necessary to enter. In order to participate, you must be a legal resident of the fifty United States or the District of Columbia and must be at least 18 years old at the time of entry. Entries will be accepted from March 22, 2015 at 10:00:00 a.m. ET until June 30, 2015 at 9:59:59 a.m. ET. Disclosure: I have happily partnered with World Kitchen LLC to share the wonderful Pyrex® 100th Anniversary product line. All opinions are my own.