Lately, our weekly dinner plans include having 'Taco Bar Tuesday', and this week I decided that this quick and easy weeknight meal needing to be taken up a notch. I mean, how many times can you put out ground beef, lettuce, salsa, beans, guacamole and cheese onto a tortilla?
No more than four times I say therefore; I decided to use chicken, switch up the topping choices and add some 'fun' in the form of sweet potato fries.
Alexia Sweet Potato Fries with Sea Salt are a freezer staple in our home for easy weeknight meals. In fact, to make this a super-fast and efficient meal, I turned on the oven as soon as we walked in the door. I then bake the sweet potato fries while homework is being done, and by the time I remove the fries from the oven, the rest of the taco night options are waiting to be consumed!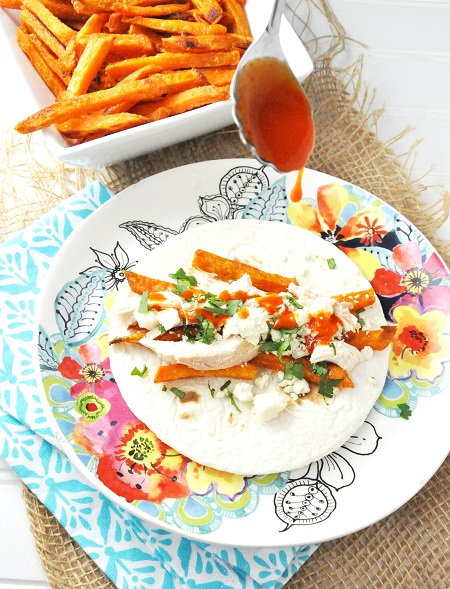 Buffalo Chicken & Sweet Potato Tacos (serves 4)
Ingredients:
Alexia Sweet Potato fries with Sea Salt
2 cups of cooked chicken
A handful of chopped cilantro
1 cup of crumbled blue cheese or gorgonzola
A few dashes of hot sauce
Flour tortillas, soft or hard
Directions:
1. Preheat the oven and bake the fries as directed on the sweet potato fry package.
2. Chop the chicken and cilantro and set aside.
3. Place the tortillas on a plate, and top with sweet potato fries, chicken, blue cheese, cilantro, hot sauce, and consume.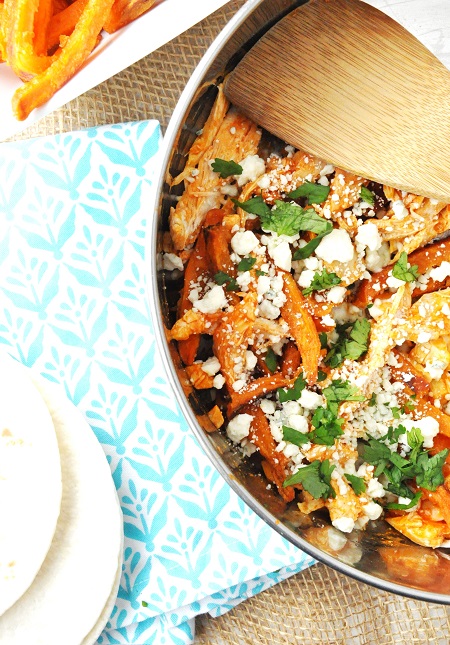 Alexia Foods offers frozen potatoes, appetizers, breads and side dishes with minimal, but distinctive, real ingredients that serve-up exceptional taste. Alexia frozen sides are a delicious addition to a balanced meal with that little something extra and can be ready in 25 minutes—or less. Sign up for Alexia's Club 350 newsletter for more great meal inspiration!
Alexia. Farm to Flavor.
This is a sponsored conversation written by me on behalf of Alexia . The opinions and text are all mine.