Last week was spring vacation week and we enjoyed it by spending time with friends, playing in the sunshine, working on some home renovation, setting up our outdoor furniture, and having family game time.
One of our favorite family activities is playing board games and personally, I love introducing the kids to my favorite board games from my childhood. The first game (in full disclosure made by the company that sponsored this post) that comes to mind in The Game of Life game.
As a youngster, my grandparents would often take us to their cabin in Vermont where my sister and I would spend hours playing The Game of Life game (it came out in 1960 in case you didn't know). In fact, after my grandparents passed, I visited the cabin and brought the game home.

What excites me about the new version of 'The Game of Life My Dream Job' game is that it features new Career Cards! Some of the careers are Professional Athlete (our daughter plans on being an Olympic gymnast), Singer (our daughter's plan after the Olympics) , Veterinarian (what our daughter will do after the singing career ends), Secret Agent, Teacher, Doctor, Scientist (the kids' know Mommy is one), Fashion Designer, Lawyer, Inventor, Chef, Race Car Driver, Dancer, Police Officer, Firefighter and the top pick, Video Game Designer (Our son's current plan).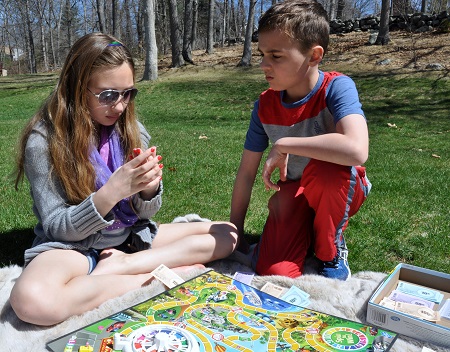 While playing this game, we were talking about what a Scientist does and what schooling Mommy had to go through to obtain that job. Daddy also reminded our son that in order to become a video game designer, that he needs to work towards a degree in computer science. We reinforced the ideal, that we fully believe in, that no matter what you choose to do, you need to put in full effort and take pride in yourself.
As with the version of the Game of Life game that you know and love, you get to choose different paths along the way: college path or straight to career? night school or continue on? family path or continue on?
Oh, and don't worry, the super fun car, stick-like people, cute stick babies, and payday spots are still a part of the The Game of Life My Dream Job' game.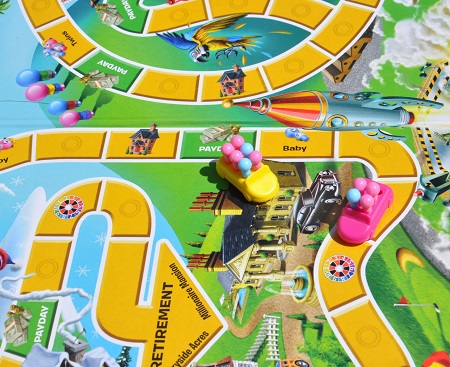 By the way, did you know that 'Take Your Sons and Daughters to work day' is on April 23? Have you ever taken your kids to your work place so they can learn more about what you 'do'?
This is a sponsored post written by me on behalf of Hasbro THE GAME OF LIFE.