Disclosure: I am working with Colgate and Walgreens to spread the word about Colgate Total® Daily Repair Toothpaste and have been compensated for my time and efforts. All opinions, and this recipe, are my own.
I have shared healthy recipes and tips for a few years now but healthy eating is only one part of the game. I think it is time to give a few more suggestions about how to maintain a healthy lifestyle before we get to this ridiculously fabulous recipe. Each of these tips are so easy to incorporate in your everyday routine, that you won't even notice you're doing them!
*Up the Ante: Incorporate nutritional boosts with each meal by mixing in some quinoa, kale, and fruit. Consider adding quinoa to soups, stews, stir-fry and even egg dishes. You won't taste it and the complete protein quinoa will be loved by your body. When mixing up a smoothie, use extra fruit and even veggies to take your health factor to the next level.
*Have a Balanced Snack – include some low-fat cheese with crackers, some peanut butter with your apple, raw veggies with low-fat ranch dressing, rice cakes and cottage cheese.
*Healthy Eating's BFF: I am a firm believer in regular exercise being part of your lifestyle. Therefore, eat healthy and get in some exercise 4-5 days week – be it walking, swimming, biking, yoga, or whatever you most enjoy.
A healthy lifestyle also includes good dental hygiene habits. These include a great toothpaste, flossing and mouthwash. I really improved our habits a few years back when I had my teeth straightened and we have stuck to them. It's something that many people never even consider as part of their 'health' routine, but having a healthy mouth is just as important as having a healthy body!
Our son is actually the pickiest and most demanding when it comes to toothpaste – it needs to be minty, leave his mouth fresh and his teeth clean. Naturally, as a parent, I have more stringent requirements besides tasting minty and leaving my mouth clean – the toothpaste must actually do something.
Colgate Total Daily Repair goes beyond the basics and repairs teeth and gum issues at their earliest stages by preventing gingivitis, cavities, and plaque buildup. Plus, and good for everyone around us, it also fights bad breath and whitens teeth. Next time you're out and about, think about picking up a tube or two at your local Walgreens.
Now that you know how to stay healthy throughout the rest of your day, what about dinner time? This is one of my favorite recipes, which the kids adore, that leaves me feeling great at the end of a long day!  To save time, cook the Salmon and quinoa the night before so you are ready to make the burgers when you are done working for the day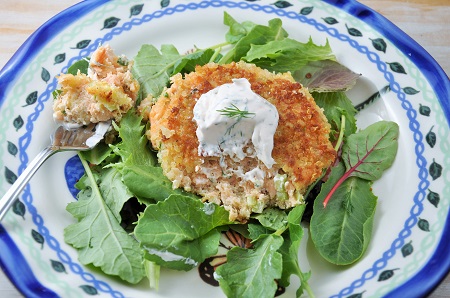 Quinoa Crusted Salmon Burger Recipe
Ingredients:
1 1/2 pounds fresh salmon filet, cooked
1 ½ cups cooked Quinoa, divided
1 ½ cups Panko bread crumbs, divided
3 tablespoons old fashioned oats
1-2 small ribs celery, finely chopped
2 tablespoons parsley, finely chopped
1 1/2 cup light Mayonnaise
3 large eggs
4 Tablespoons extra-virgin or grapeseed olive oil, divided
Salt and black pepper
Creamy Sriracha Dill Sauce
Directions:
1. Preheat oven to 350 degrees Fahrenheit. Season the Salmon filets with salt and pepper and bake for 30 minutes. If not cooked thoroughly, bake for 5-10 additional minutes until done.
2. Meanwhile, cook quinoa per manufacturer's instructions and set aside.
3. Once cooled, flake the salmon into a large bowl. Using a fork, mix together 1/2 cup bread crumbs, ½ cup quinoa, oats, celery, parsley, mayonnaise, and a pinch of salt and black pepper. Refrigerate for a minimum of 30 minutes (or even store overnight).
4. Beat the 3 eggs with a tablespoon of water and place aside. Form the salmon mixture into 8 patties. In a bowl, mix together the remaining bread crumbs and quinoa, Season with salt and pepper.
5. Create an assembly line as follows: A plate with 1/3 of the bread crumb/quinoa coating, a bowl with the whipped eggs, a plate with the remaining coating mixture. Coat the patties with the bread crumbs, then the eggs, then the panko again.
6. In a heavy skillet, heat half of the olive oil over medium-high heat. Once you are ready to add the patties, lower heat to medium-low. Add 4 salmon patties to the pan, and cook until golden, about 3 minutes per side. Repeat with the remaining oil and patties.
7. Serve warm with the creamy sriracha dill sauce.
Creamy Sriracha Dill Sauce
Ingredients:
1 Tablespoon Sriracha
1 cup light sour cream
1-2 teaspoon fresh dill, minced
A few dashes of lemon juice
Directions:
Mix all ingredients and serve with Salmon burgers
I would love for you to share your healthy lifestyle tips with me, so simply post on Twitter, Instagram, or Pinterest using the hashtag #GiveASmile.
You can also follow along on my Pinterest board, "A Better Life Through Simple Changes" for more fantastic tips about living a healthy, active lifestyle!