A few evenings ago, I had a blast attending a Homemade Hummus cooking class with Kim #2
I had been having a particularly rough day at work, which Kim was aware of, and when she arrived to pick me up, she came with some chicken pot pie and a glass of wine for me – what a friend!!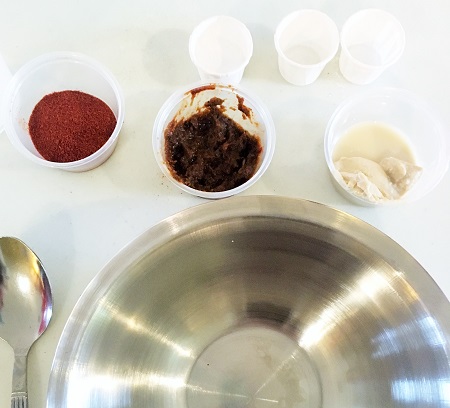 Once we arrived and got to know our table mates, we got down to hummus making. We learned how to make three different hummus recipes (so fast and easy to do yourself) and learned to combine some different olive oil and vinegar flavors.
Did you know you do not always have to use garlic and the traditional acid of lemon juice? As long as you use some sort of acid, be it grapefruit juice, lime juice or even a flavored vinegar, you are good to go. You also do not always need to use a traditional sesame oil as the oil base either. Again, you can use any flavored olive oil you want so go crazy and experiment!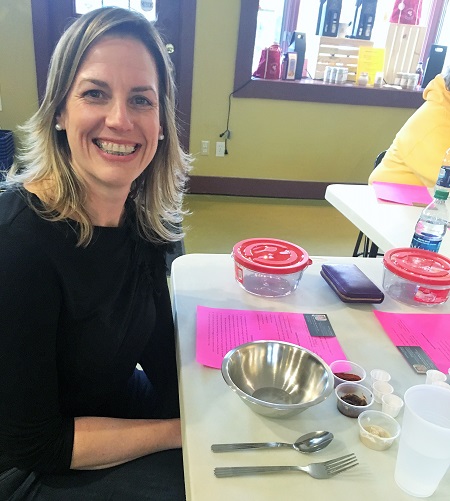 Basic Hummus Recipe (makes 1/3 pound)
Ingredients:
5 ounces of canned Garbanzo Beans, drained (reserve 1 1/2 ounces)
1/2 ounce infused olive oil
1/2 ounce infused vinegar
3/4 teaspoon Tahini Paste
~1/2 teaspoon Harissa Pasta (to taste)
~1/4 Ground Paprika
Pinch of kosher salt
Directions:
1. Strain Garbanzo Beans and reserve the liquid.
2. Add garbanzo beans to bowl and msdh with a fork for about 15 seconds.
3. Add olive oil and veingar and mash for about 15 seconds.
4. Add both the Tahini and Harissa paste, and mash for 15 seconds.
5. Add paprika and the salt and continue to mash for about 30 seconds.
6. Add mixture to the food processor with 1/2 of the reserved juice, and blend for 30 seconds.
7. Scrape the side of the bowl, andd remaining juice, and blend for a final 30 seconds.
8. Taste and adjust salt and consistency to taste – just remember that the flavors meld more as it sits overnight.
9. Store in the refridgerator for 5-7 days.
Recipe courtesy of Extra Virgin Olive Store in Mystic CT