Did you know I am a Science nerd? No really, I have a degree in Science and work in the clinical research field.
This means anything related to Science excites me. Therefore, when I was asked if my family wanted to try the game Dr. Eureka, I was intrigued.
The premise of the game basically a game of speed and logic. See, the brilliant Dr. Eureka "has important experiments for you to complete".
Each person has three test tubes and six colorful balls. You pick a challenge card from the pile and have to create the scientific formula by carefully moving the balls from tube to tube without dropping them. The balls , in each test tube needs to match what is shown on the challenge card – who ever completes first, wins.
The game states for ages over six, but I think your child should be a bit older or may get frustrated as this is a hands-on, dexterity-based, brainteaser type of game.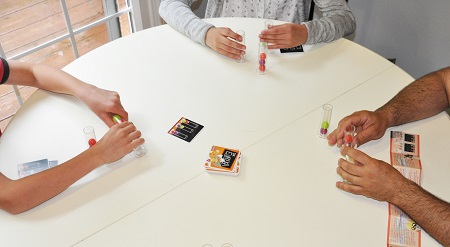 Disclosure: The game was provided for my family to use and then share on opinions.