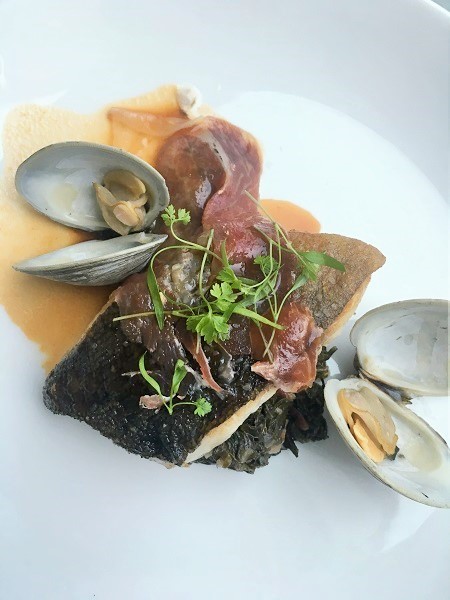 Sometimes I surprise my husband, sometimes I do not. He did not seem surprised when we got a spiffed up for a date night, only to find I had the date wrong. The Nickel & Nickel wine dinner was in fact two days  later in the week. Oops.
Naturally we could not make date night work twice in one week, so I took Kim #2 with me once again – that lucky duck!
When Kim and I arrived, we were treated to a perfect selection of passed Hors D'oeuves served with Veuve Clicquot (Yum!).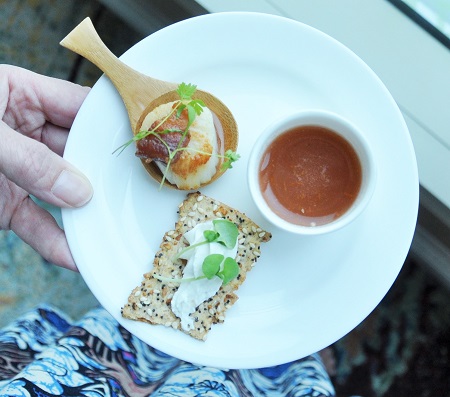 The first course, paired with the Gerard Bertrand Cote des Roses, was a soft shell blue crab with Heirloom tomatoes, watermelon, Vidalia onion, basil and cassis vinaigrette. While enjoying this course, I tried to pay attention while the wine was introduced. I think some folks sitting near me may not have been able to hear much over my constant humming-yumming noises.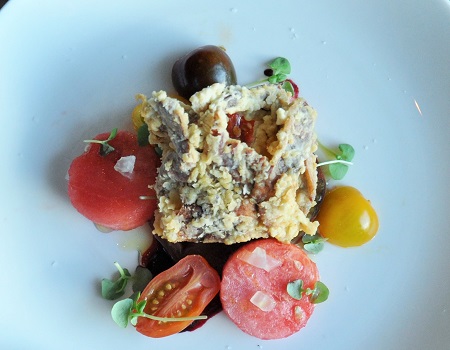 The second course, paired with Nickel& Nickel Chardonnay Truchard Veinyard, was a butter roasted black cod, smoked littleneck clams, jam, braised swiss chard, and lemon bercy.
While enjoying this course, I considered proposing to Chef Michael Yaffe, but thought instead, it may be best to beg him to cook for me on a daily basis. Please note that if you love your Chardonnay with a bit of smokiness to it, this is a good wine choice for you (The wine is fermented in 49% new oak and 51% year old barrels).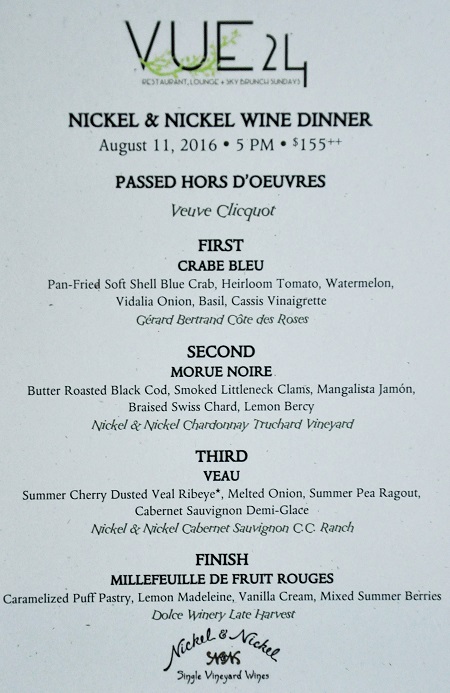 The third course, paired with Nickel & Nickel Cabernet Sauvignon C.C. Ranch, was a cherry dusted Veal Ribeye, onion, pea ragout, and Cabernet Sauvignon demi-glace. I must admit that I do not recall eating Veal before, but it was so delicate that it melted on my tongue. The center was a bit too rare for me, so Kim thoughtfully finished it off.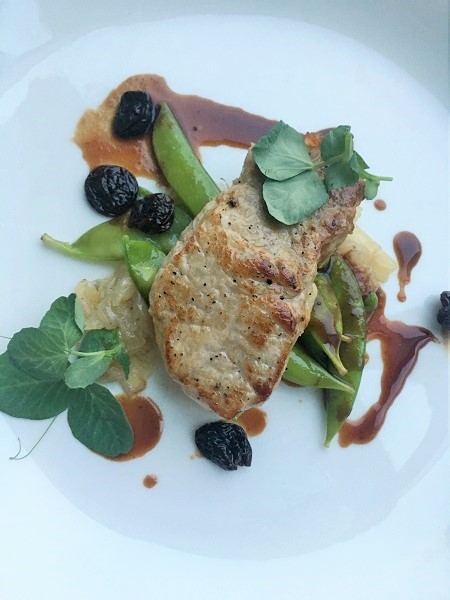 Dessert, paired with Dolce Winery late harvest, was a sensational caramelized puff pastry, vanilla cream, mixed summer berry delight.
I almost forgot to tell you about Nickel & Nickel: They are located in Oakville, Napa Valley, and exclusively produces only varietal, single-vineyard wines that best express the personality of each vineyard.
Disclosure: I was a guest of Foxwoods Resort Casino. All opinions are my own.